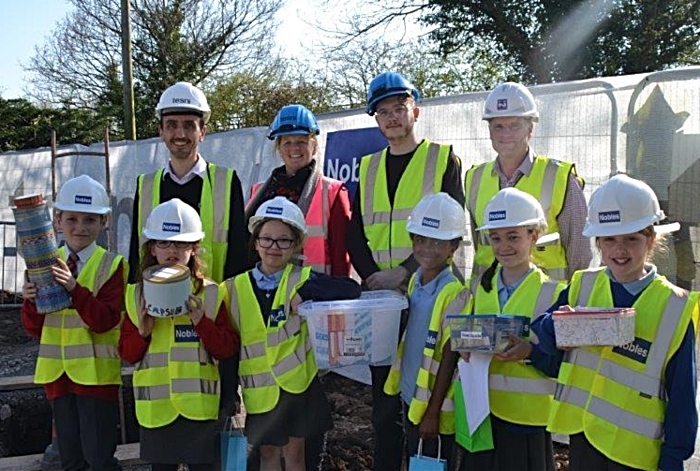 Youngsters from three Nantwich schools donned their hard hats on a new housing development as part of a time capsule competition!
Year 4 pupils at Highfields Academy, St Anne's Catholic Primary School and Acton C of E Primary School were challenged to fill a capsule which could be buried on the site of the new Tesni Homes development on Welshman's Lane.
They had to make their own capsule and choose what to including inside.
Each school judged and chose a winner and runner up, with St Anne's whole class putting together one time capsule.
And the winners and runners up were invited down to the site with their time capsules for the final judging.
They wore hard hats, hi vis vests, and enjoyed a tour, safety talks and showed their capsules to the judges – Eliot Goodger, manager of Nantwich Museum, Liz Parkin from Redshift Radio, and James Hennie, managing director of Tesni Homes.
Eddie Fuller, of Highfields Academy, was crowned the overall winner. Eddie made his time capsule out of a piece of downpipe which he had capped with a lid.
St Anne's School were second for the contents of their capsule as the amount of effort into research and included details about the Battle of Nantwich.
Contents in all the capsules varied from a t-shirt, favourite memories of school, photos, maps, details of the Nantwich Show and a leaflet for the Battle of Nantwich, and a newspaper.
All the winning capsules were buried on site and registered for future years.
One of the judges Liz Parkin, of RedShift Radio, said: "We were really impressed with the thought that had gone into the time capsules.
"Each had unique items such as Nantwich Town, Nantwich Show tickets, a school t-shirt and school badge.
"There were several front page news of the day – Brexit, something that will certainly go down in the history books.
"My two favourite clever items were a receipt from Morrison's and some coins and some silica gel crystal sachets to help keep the time capsule dry – genius.
"I remember planting a time capsule when I was in infants school and can remember clearly what we put into it!
"I am sure these children will remember this experience with Tesni."
The Tesni development is a small exclusive site on Canal Walks of eco-friendly homes with a difference.
There are around a dozen luxury 4 and 5-bedroom homes. More details here.