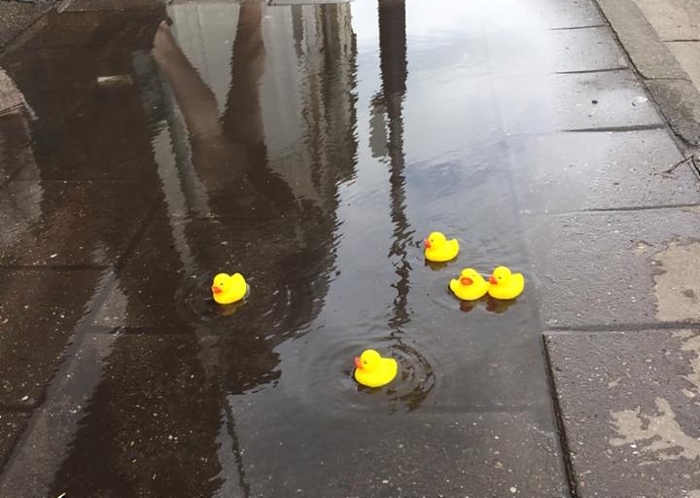 Disgruntled members of Nantwich Civic Society are aiming to ruffle Cheshire East Council feathers over the crumbling state of the town's pavements.
They have launched their new "Puddleduck Campaign" to pressure the authority into much-needed repairs.
And they released these cheeky images of ducks playing in various puddles which now form on large sections of cracked and uneven town centre footpaths because of decaying and sunken paving slabs.
The society backed a recent Nantwich Town Council bid for a slice of the New Homes Bonus pot from Cheshire East Council for improvements to the street scene in Nantwich.
But this application was rejected.
Jeff Stubbs, chair of Nantwich Civic Society, told Nantwich News: "Wildlife spotted in town centre!
"Taking advantage of regular water features on Beam Street.
"Our members have long been lobbying to get the sunken and cracked pavements repaired.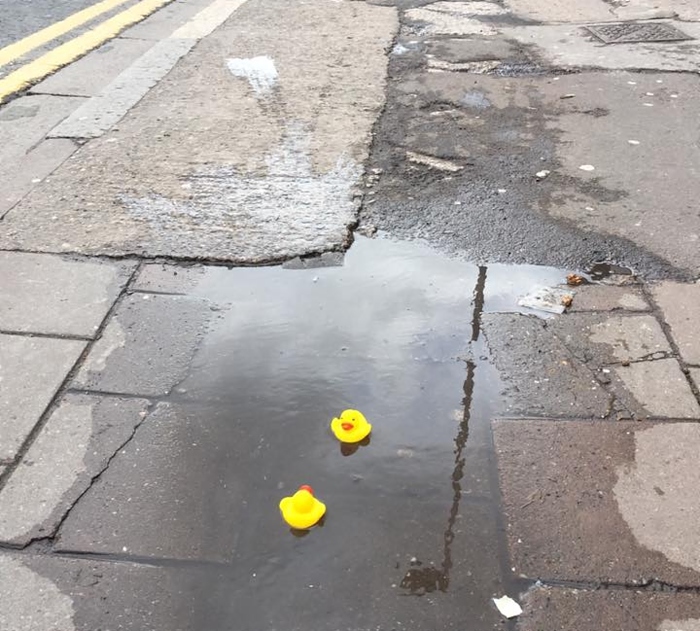 "We missed out on the New Homes Bonus bids but it won't stop us pressing the problems home to Cheshire East.
"We know their budgets have been steadily and badly cut by Central Government … to a level not normally appreciated.
"But come on! Let's get the public spaces and pavings repaired to at least a reasonable level, as in other towns in the borough.
"It is an Historic Conservation Area, after all."
Badly affected areas include the sections between Beam Street, Swine Market and Oat Market, where footfall is high among shoppers and visitors.
Other crumbling footways include on Mill Street with cracked pavings on the way down to river, as well as the brick paved section near the top damaged by heavy lorries.
Hospital Street is plagued with cracked and uneven paving, as well as ugly tarmac infill.
Jeff added: "Welsh Row was relaid in good quality small paving flags about three years ago after a detailed study and much money being spent.
"So we were dismayed to see odd flag stones missing now and tarmac in-filling the gaps. This is near the junction with Queens Drive.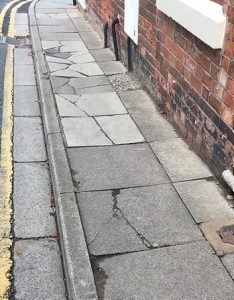 "Also two sets of railings need attention. One long set is in Welsh Row.
"The railings are cheap scaffolding tubes with rounded joining corners and pieces.
"In historic Welsh Row, they are either not needed, so should be removed, or they should be replaced with heritage cast ones as seen in many other towns.
"The other glaring railing that needs replacing with Heritage types is at the Pratchitts Row/Hospital street mini roundabout. It's end leans in to pedestrians and is dangerous."
Nantwich Partnership, which Jeff also chairs, completed and sent an October Street Study to Cheshire East Council Leader Rachel Bailey and local councillors last year.
"We have been promised a meeting with the Head of Highways," he added. "And our councillors on the Partnership have tried taking the case of Nantwich forward to CEC.
"We await a meaningful site walkabout and inspection.
"I have been told many times that CEC can't see beyond Crewe and they think Nantwich is doing OK and not needing any council investment…… clearly not."
At the last Nantwich Town Council meeting, town councillors discussed funding the repairs themselves to the tune of £40,000 rather than wait for Cheshire East Council.
Cllr Arthur Moran said: "If we wait around for Cheshire East to do them, we'll be waiting for five years!"
A Cheshire East Council spokesperson told Nantwich News: "The council maintains 1,900 kilometres of footways around the borough and we carry out regular inspections to ensure they are safe for residents and visitors.
"All repairs are scheduled according to their priority and a section of Beam Street, Nantwich, has been assessed in line with the council's criteria for footway and road repairs.
"Improvement work to the pavement in Beam Street has been programmed following a recent inspection and other pavements in the town will be assessed."
To report a highways issue to the council visit: https://bit.ly/1J3f8mz