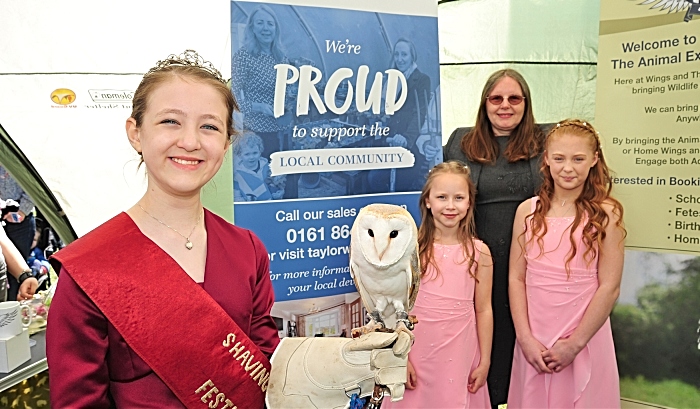 Shavington Village Festival has secured £370 sponsorship from house developer Taylor Wimpey Manchester.
The popular event, running for more than 40 years and is organised by the Shavington Village Festival and Pantomime Committee, took place on Saturday 11th May and welcomed over 400 visitors from the village and across the region.
The homebuilder's donation was used to pay for the hire of a marquee and to cover the cost of a wild bird show by Wings and Things.
Lesley Smith, chair of Shavington Village Festival Committee, said: "We're incredibly thankful to Taylor Wimpey for its support.
"All of the proceeds from the day go to local causes and to fund the annual pantomime – neither of which are cheap, so the donation really does make the world of difference to us.
"Each year the festival seems to get bigger and bigger and this year was no different. It was a huge success, enjoyed by all!"
Taylor Wimpey's Cherry Tree Park development is located in Shavington Village.
Chloe Dunn, sales and marketing director for Taylor Wimpey Manchester, added: "Shavington is a village with a real community focus, so we were more than happy to offer our support to the festival.
"It is a highly-anticipated event that is enjoyed by many of the local residents each year, some of whom no doubt live on our nearby Cherry Tree Park development."