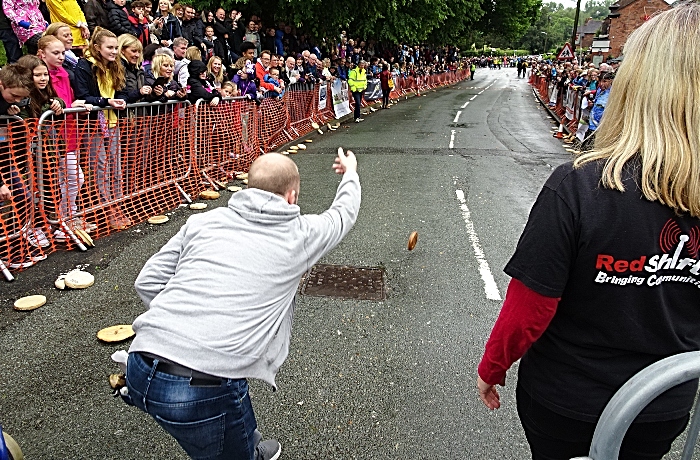 Thousands of people braved the wind and rain to enjoy the quirky annual Wybunbury Fig Pie Wakes, writes Jonathan White.
The event, organised by the Wybunbury Tower Preservation Trust, dates back at least 200 years though stopped in 1920.
It was reprised in 1995 when the Wybunbury Tower Preservation Trust revived it to raise money for the upkeep of their historic leaning tower in the village.
Proceeds from several of the stalls goes to village charities and groups.
The event started with a peal of bells at Wybunbury Tower.
Locally-based online community radio station RedShift Radio provided, set-up and staffed the PA system with fig pie race commentary from RedShift Radio presenter Kelly-Ann Davies, ably assisted by youth presenter Daniel Achterhuis.
The fig pies are made from a traditional recipe containing a hard pastry and were rolled from The Swan Inn pub down Main Road to see how far they would travel.
There were separate race age categories for Under 10s, Under 16s and adults.
The honour of rolling the first fig pies this year was bestowed on presenters Inel and Johnny from CBBC's "All Over the Place" programme.
The inaugural inter-schools pie rolling race took place between Wybunbury Delves CE Primary School and Stapeley Broad Lane CE Primary School for the "Wybunbury Fig Pie Wakes Lewis Crossley Memorial Shield".
Wybunbury Delves CE Primary School rolled their pie the longest and were presented with the Shield.
Lewis died aged seven years old after battling for two years against T-Cell Acute lymphoblastic leukaemia.
A charity – Team Lewis Trust – was founded in his memory and are fundraising to support research into the type of leukaemia he fought against.
Lewis was a pupil at Wybunbury Delves School.
His dad Adam said: "We were very touched to have this inter-schools award created in Lewis' memory.
"Both during Lewis' illness and since he died we've had a humbling level of support from our local community.
"Team Lewis Trust is now just over a year old and we've raised over £60,000 so far for research into T-ALL and we'd like to thank everyone for their support."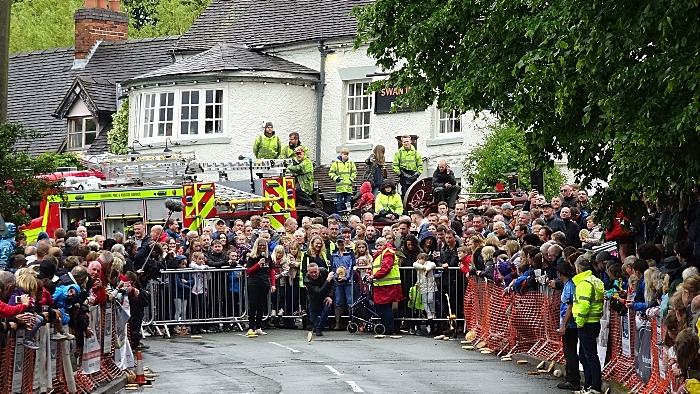 The Under 10s race was won by Harry Cockram, and the Under 16s was won by Harry Elkes.
The adult race was won by Phil Cooper from Nantwich with a new official record roll of 117 metres in his first participation in the event!
Wybunbury Tower was open to the public, and there was a grand raffle, various stalls, and refreshments.
South Cheshire 'George Formby' Ukulele Society and children's entertainer Professor Lucerne performed by the Tower.
Domesday Morris Dancers performed by the Tower and on Main Road.
The Swan Inn hosted a display of steam traction engines.
The Red Lion pub had live music and a classic car display.
A BBC television crew filmed the event for the CBBC programme 'All Over the Place', where the hosts go on a bizarre quest to find the most unusual, strange and amazing places to visit in the UK.
Presenters Inel and Johnny competed against each other as 'Team Inel' and 'Team Johnny' for the 'All Over the Place' trophy, then headed to The Swan Inn to eat a pie!
The sponsors were Cheshire Lamont, Taylor Wimpey and Martin K Davies Osteopath.
(All images courtesy of Jonathan White)