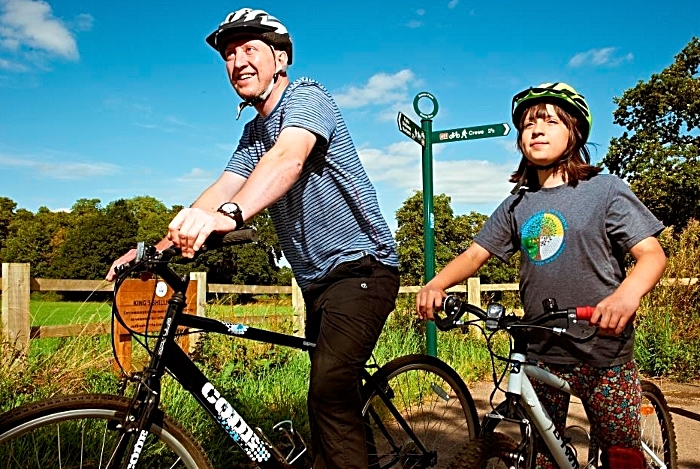 Cheshire East Council's new leader has appointed a "cycling and walking champion" in a bid to get more people more active.
Cllr Sam Corcoran has appointed Independent Councillor Suzie Akers Smith to the post.
Her role will be to promote cycling for all age groups across the borough.
She will also work with cabinet and senior officers to focus council policies and put cycling at the heart of planning and design of streets, communities and green spaces.
The authority says it wants to see a 'step change' in the take up of cycling by residents across Cheshire East.
It aims to encourage more people to cycle safely and walk more often with confidence for everyday journeys and leisure, especially into and out of town and village centres.
Cllr Corcoran said: "I am passionate about the well-recognised benefits of cycling and walking for our environment, communities, local economy and our health and wellbeing – and I know that Cllr Suzie Akers Smith is equally passionate on this subject.
"This council is committed to enhancing and delivering a cycling strategy to deliver a high-quality and safe cycle network so that people of all abilities will be able to travel by bike around the borough.
"I know that Suzie will be a great champion of this cause."
Cllr Akers Smith said: "I am proud to be appointed the council's cycling and walking champion and am passionate about the importance of getting more people to travel by bike on safe cycle networks and walk more for journeys under a mile.
"I am really looking forward to working with colleagues across the political spectrum to work towards delivering a truly cycle-friendly network of routes to connect people and places across the borough.
"This cycling network will be crucial to connect more people to jobs, skills, schools, key services and leisure opportunities across Cheshire East."
Cllr Corcoran added: "Cycling has many benefits and is certainly a good investment – as the UK government estimates that for every £1 invested in cycling, £5.50 is returned in social benefit.
"The research is very clear: by cycling and walking regularly, our residents and visitors will be healthier, happier and wealthier – and it's great for businesses, the visitor economy and the environment too."