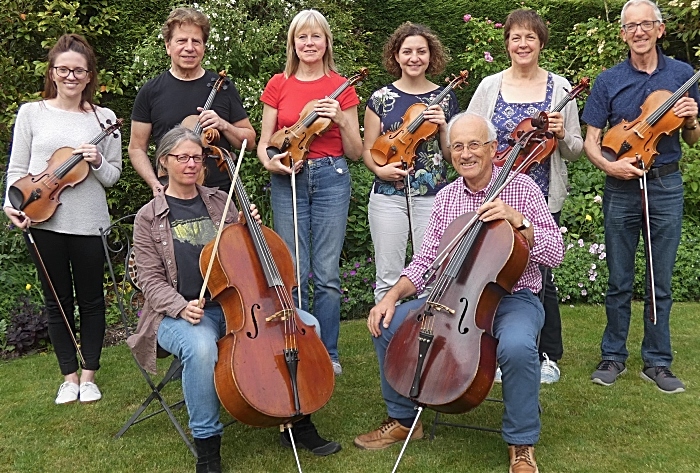 The Nantwich Chamber Ensemble will be performing the latest of the Summer Lunchtime Concerts in Nantwich this week – with a rare production of Mendelssohn.
The audience at St Mary's Church can watch and listen this Thursday July 25 to an Octet he wrote at a young age for 8 string instruments.
There was only one Octet for this combination of instruments written before, by Spohr, and that was considered somewhat experimental.
Mendelssohn has been described as "evoking a remarkably spontaneous sense of a phenomenally gifted composer letting his inspiration run free".
The Nantwich Chamber Ensemble have been rehearsing together with four invited guests to prepare for the special recital, which begins at 12.30pm and lasts 45 minutes.
The Ensemble is an informal collective of musicians drawn from Nantwich and beyond, who share a passion for chamber music.
Since its formation in 2014, the Ensemble has given successful performances of trios and quintets by Beethoven, Brahms, Mozart and Dvorak at lunchtime concerts in Nantwich, Chester and Shrewsbury, as well as with the Lydian Singers at the Lymm Festival.
Alison Loram has performed as solo violinist with local orchestras and has played professionally with orchestras such English Symphony and Pro Anima.
Kathryn Cannons began playing the violin aged six and studied at the RNCM gaining a PGCE in addition to her music degree. She has always enjoyed playing orchestral, string orchestra and chamber music as well as playing regularly for choral societies.
Morris Saleh studied the violin at the Northern School of Music and the Royal Northern College of Music in Manchester. He joined the Northern Ballet orchestra after leaving college then enjoyed a successful career as a freelance violinist playing in orchestras and chamber groups throughout the North West.
Sophie Nixon began learning the violin age five. She played in chamber groups and orchestras whilst reading Geography at the University of Bristol, leading the University Chamber Orchestra for two years. Sophie leads the second violins in Stockport Symphony Orchestra, though chamber music is her true passion.
Laura Baker started playing the viola at the age of nine. She currently leads the viola section in the Chester Philharmonic Orchestra. Laura read engineering at Cambridge and currently works in the nuclear decommissioning industry.
Nick Smith started playing the viola as a schoolboy in Essex but gave up when he went to the University of Warwick to study Engineering. On moving to Cheshire, Nick started playing again and is now a regular member of the North Staffordshire Symphony Orchestra as well as various chamber groups. He also sings with Nantwich Singers.
Becca Nelson started learning cello age six and as a teenager led the cello section in Cheshire Youth Orchestra, as well as playing chamber music on a regular basis. She read English at Cambridge, but returned to Cheshire where she loves playing chamber music and teaching the cello in Middlewich.
Kevin Hamer's musical foundations were laid at the Northern School of Music, and in Dean Close School Chapel Choir in Cheltenham. He has since enjoyed singing in choirs, and playing the 'cello in chamber groups and orchestras, wherever his 30-year career in railway operational and personnel management has taken him.