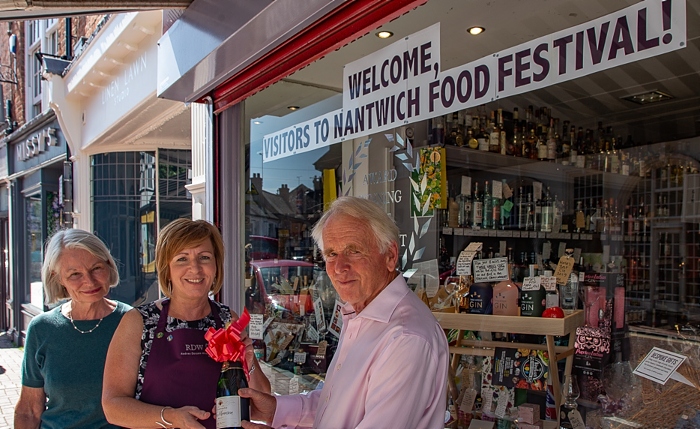 The winners of the Nantwich Food Festival Window Display competition have been unveiled.
Town businesses were asked to create a window display that would catch the eyes of competition judges Food Festival President Roger Mills and his wife, Sarah.
Rodney Densem Wines in Pillory Street was overall winner, with Mia Boutique in Hospital Street the runner up.
Third place went to St Luke's Hospice of Nantwich on Pepper Street.
The judges said: "What stood out about the RDW window was how it welcomes visitors to Nantwich for the Food Festival, with references to festival events throughout their display, while also encouraging visitors to return in the future.
"Bringing visitors to our town and keeping Nantwich vibrant is one of the main motivations for running the Festival."
Of Mia Boutique, they added: "We were delighted to see a non-food and drink business put in such an effort with their entry.
"They hope it will motivate visitors to venture slightly further out of the town centre as it is important to involve all parts of Nantwich in the Festival."
And for St Luke's: "We are very pleased to see a major local charity participate in the competition. Their unusual display was made up of all donated goods and showed great creativity and flair."
Food Festival business liaison manager Nanna Pedley said: "We are delighted with the number of businesses that have participated in the Window Display Competition, and how good Nantwich looks in the lead up to the Festival.
"This is the first year we have run a competition specifically for town businesses.
"We see this as a way of getting as many as possible involved in the festival, whether or not they are food and drink related.
"The festival brings more than 40,000 visitors to the town over the three days and it is important that local companies benefit from the extra business they bring, both over the festival weekend, and when they return during the rest of the year."
For more details of the competition and all the other events associated with this year's festival, visit www.nantwichfoodfestival.co.uk