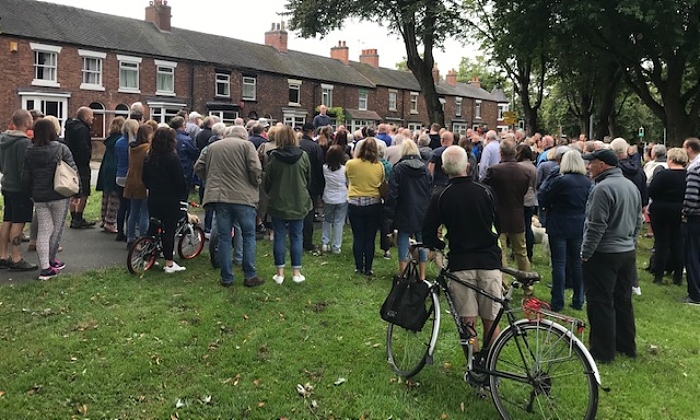 More than 200 people attended a Barony Park protest in Nantwich today to pressure Cheshire East Council into action against unauthorised traveller encampments.
The latest encampment was served with a rare Section 61 order by police on Thursday after it emerged a local authority official was verbally abused by travellers.
They were given the notice to leave by Friday (yesterday) 9am, but left on Thursday night.
And it has also emerged that a Cabinet councillor at Cheshire East has now been banned from communicating with a Friends of Barony Park spokesperson.
Rachel Cole lodged a formal complaint to the authority for its inaction in preventing unauthorised encampments by not applying for an injunction, not providing a transit site, and not pushing ahead with perimeter boundary measures.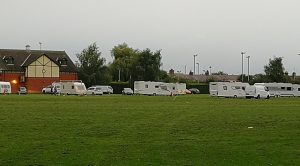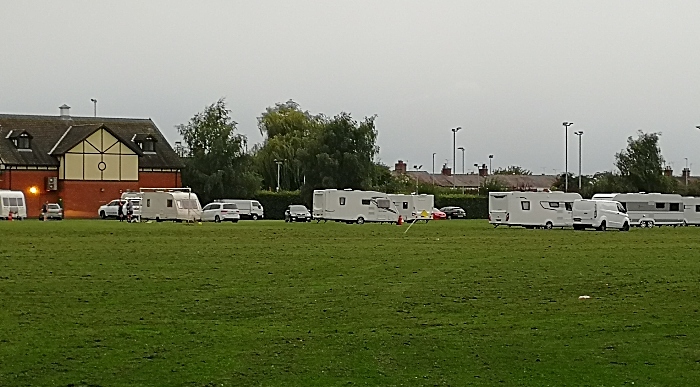 But in correspondence seen by Nantwich News, Cllr Mick Warren, Cabinet portfolio holder for communities, says he has been told by legal advisors not to communicate.
He wrote: "As cabinet member with responsibility for unauthorised encampments, I had been keeping The Residents of Barony Park through Rachel Cole, up to date with our progress with regards taking barristers advice around injunctions, speaking with the eastern area Police Superintendent about a perceived unwillingness by residents to invoke their S61 powers; seeking assurances from The Police Crime Commissioner that senior officers who make decisions about the use of these powers are up to date with training etc.
"However, following a formal complaint made against the council, I was advised by our legal team not to communicate further with Mrs Cole which I informed her of by telephone voicemail message."
Kieran Mullan, who led today's protest with Rachel Cole, called the move "extraordinary".
Dr Mullan, Conservative Party candidate for Crewe & Nantwich, said: "I find it extraordinary that the Council position is that it will now refuse to engage with a resident that in good faith has worked hard to represent residents over this issue."
In writing to Cllr Warren, he added: "I suggest you use your personal judgement and tell the legal team that you will not be following that particular bit of advice. Civil servants advise, politicians decide!"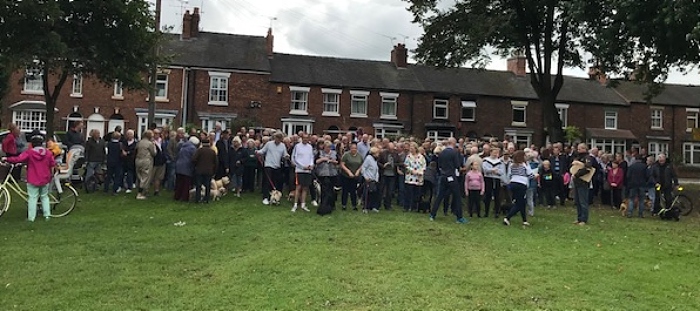 Both Ms Cole and Mr Mullan spoke at today's protest which attracted around 240 people, with another 90 issuing apologies for not being able to attend.
Some Nantwich town councillors and local police also attended.
Addressing the crowd, Ms Cole spoke passionately about the fight they will continue against Cheshire East Council.
She said: "We need to show CEC we will not give up and not go away.
"We will keep shouting until they hear us.
"None of us want to be here today, we're all busy people, but we care about our park.
"We have simple requests – get a court injunction, sort the perimeter boundary with us, and get a transit site.
"I want to thank Kieran (Mullan) for the way he has encouraged us. He has had chances to score political points but hasn't.
"And I want to thank Nantwich Police and Nantiwch Town Council for their ongoing support, and hopefully financial support if we need funds to build our own perimeter.
"We will continue to pressure Cheshire East. They need to know we are not going away."
The large crowd gave a rousing round of applause at the end of her speech.
She told Nantwich News after: "It's been really positive today, we've had 236 people attend from all over town and 91 apologies.
"The pressure will continue to grow on Cheshire East. More people have signed up and joined our campaign, we're getting stronger.
"We held it at the park today because some of the elderly residents did not want to travel to CEC offices in Sandbach. And after all, this is about our park."
Sgt Ian Bennett, who attended, confirmed the latest unauthorised group of travellers were served with a Section 61 after due to "public order abuse" committed against Cheshire East Council representatives.
Current Crewe and Nantwich MP Laura Smith was invited but gave her apologies.
Cllr Allen Gage, Cheshire East councillor for Willaston and Rope (Con), also attended the protest.
He said: "I fully support an injunction and want Cheshire East to act ASAP, and have also canvassed residents on this issue during the summer."