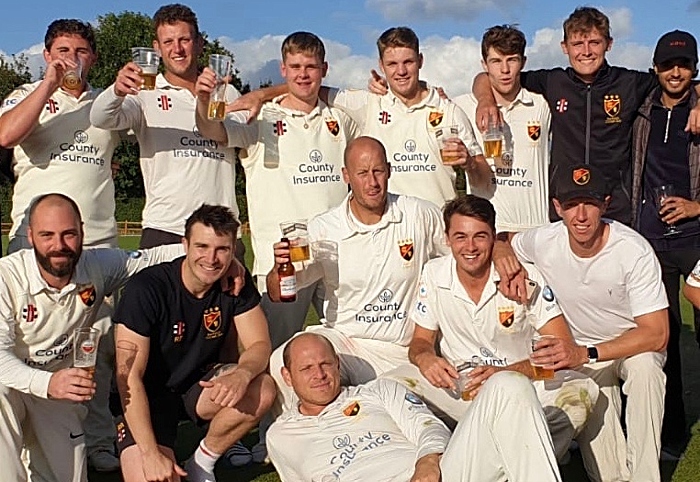 Nantwich CC players are gearing up for the biggest game most, if not all, will ever play.
The Whitehouse Lane team will be boarding a coach on Sunday morning and heading to Lord's – the home of cricket – for the National Club Final to be played on Monday against Swardeston CC.
It's the first time Nantwich has made it to a national final, and more than 250 family and supporters are also set to make the journey.
Captain Ray Doyle told Nantwich News that it was all still "a bit surreal".
He said: "Everyone is excited, we can't wait. It still feels a bit surreal since we won the semi-final!
"We're going down on a coach on Sunday morning, and we'll have a training session on the nursery ground ahead of the final.
"We picked the team in the week. It's always tricky to pick a team for such a big game like this, but we've stuck with the same 11 who won the semi-final."
That means Steve Rimmer and Henry Dobson will be opening, with Luke Robinson, Ryan Brown and Ray Doyle in at number 3,4 and 5.
Ben Johnson is next, followed by Rob Cook-Sievewright and Phil Stockton, with bowlers Ollie Griffiths, Mitchell Spencer and Jimmy Warrington.
"It's the first time any of us have played at Lord's – in fact I've never been even to watch a game!" added Doyle.
"So there are bound to be a few nerves on the day, but they are positive excited ones. It's one of the biggest goals for any club to play at Lord's, so we've done the hard job getting there.
"I don't want us to be over-awed or for us to freeze on the day, we want to bring the trophy home."
The final will be Nantwich's eighth game in the knockout competition, which starts with hundreds of clubs across the country.
And their opponents – based in Norfolk – are a familiar foe!
"We played Swardeston in the T20 semi-finals last year, so we know a bit about each other already," added Doyle.
"We lost that game, but we get on really well with them and kept in touch over the summer. It's strange that we'll be facing each other again!"
And Doyle believes the experience will more than make up for what he called a slightly disappointing league campaign in Cheshire County Premier Division.
"It has been disappointing in the league. We started slowly like we always do, but just not had time to catch up.
"The weather hasn't helped as we've lost a lot of games, but this final more than makes up for it!
"A lot of the guys have won leagues before, and it is the bread and butter.
"But a Lord's final is something very special!"
The final starts at 11am on Monday.