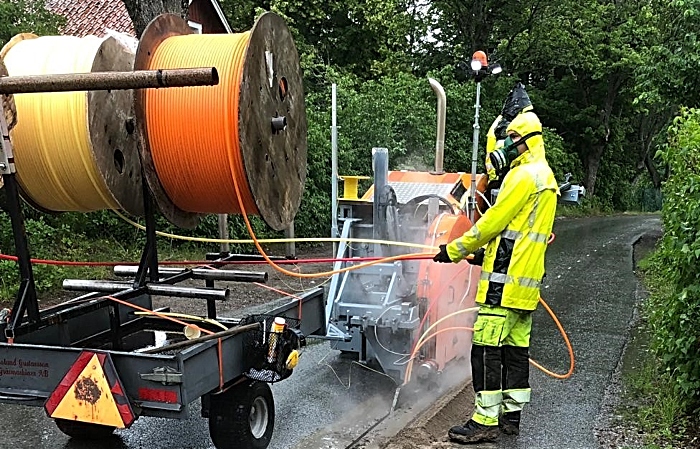 Some of the fastest and most reliable broadband in the UK is heading to Tarporley after it was named as one of 13 rural communities to benefit from a new broadband trial.
Openreach engineers will be working in the Cheshire village to test new tools and techniques as they install the latest 'full' fibre-to-the-premises (FTTP) broadband.
In some areas the first homes and businesses could order FTTP in time for Christmas, with work continuing during 2020.
Once services are live, villagers will have access to download speeds of up to 1 gigabit per second (1Gbps) – about 18 times faster than the current UK average.
Across the UK, more than 50,000 homes and businesses are included, and it's hoped the pilot will pave the way for a much bigger upgrade of rural homes and businesses in smaller, less accessible remote locations.
Kim Mears, Openreach managing director for infrastructure, said: "This is a really important trial for Openreach and it's great that Cheshire is set to play a leading role.
"We understand the importance of bringing great connectivity to rural communities, and as well as providing fantastic broadband for people living in Tarporley we hope this provides us with the platform to extend our reach to hundreds of thousands more rural premises in the coming years.
"We have already done a lot in Cheshire, through the Connecting Cheshire partnership and by joining forces with a number of communities who've asked to work directly with us.
"But we know there is more to do and we can't waited to get started."
The trial is part of Openreach's ambition to extend its FTTP network into areas that were considered more difficult or expensive for the private sector to upgrade commercially.
Openreach engineers are testing tools such as a specialised trench digging tool called a diamond cutter.
The giant circular blade with diamonds embedded in the metal coating on its edge means it can slice through pavements and roads leaving a neat channel into which the machine simultaneously feeds in tubing for fibre-optic cables.
The specialist kit is capable of installing 700 metres of cabling a day – more than 20 times that by a standard two-person team.
Clive Selley, chief executive of Openreach, said: "We've always worked hard to improve connections to isolated, less commercially attractive communities through inventive engineering and effective funding partnership models.
"In recent years we've been extending our full fibre network into rural areas – mostly in partnership with local authorities and Government – but the economics are clearly challenging and we want to do more.
"We know around 10% of the country will need the support of public subsidy, but these trials will help us test a bunch of new techniques that could help us in other rural areas.
"The trials will also give us a much clearer picture of what the technical challenges in these kinds of rural areas are.
"We hope they'll go a long way towards developing the tools, skills and innovations required to make sure that nobody's left behind in the full fibre future."