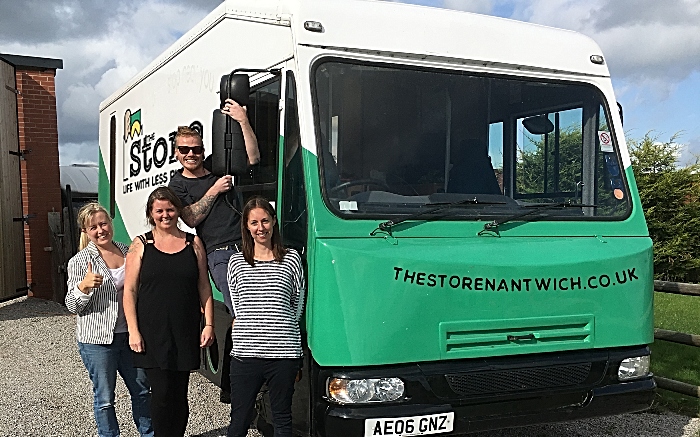 The first "plastic free" outlet launches in Nantwich when The Store mobile truck shop hits the streets.
The truck will be parked up on Churchside Yard in Nantwich from 9am-3pm this Saturday October 19.
A team of staff and volunteers, mostly from Nantwich, will be ready to welcome shoppers who are encouraged to bring their reusable containers and bags.
An official ribbon-cutting will take place at 11am and the fizz will be flowing for those with reusable cups or bottles to share a toast to Nantwich's first ever plastic free shop.
All visitors will be given a goody bag and a copy of the official "Truck Stop Schedule" which will begin on Monday October 21, the first official day of trading.
The truck has a weekly route planned which includes visits to Burland, Stapeley, Aqueduct Marina, Richmond Village, Willaston, Wistaston and Nantwich town centre.
In each village, a stop will last between 1-2 hours and over coming months stops will include a variety of extra pop-up shops or demos in the van.
Karen Makin, founder of The Store, said: "I have been overwhelmed by the level of interest and hands-on support to get what began as a little idea off the ground.
"I have learned so much about hundreds of unique and clever zero waste products, I can't wait to share them with our customers.
"I would like to thank the people of South Cheshire who have been so positive and encouraging when we have spoken at events and through our online survey emails.
"Now all that is left to do is polish the weighing scales and shine the dashboard and we are open for business!"
The Store tuck will stock a broad range of household items for all the family from food and groceries to household and toiletry products.
Items on board will include budget-friendly, branded and eco-products.
Already over 1,500 people have signed up to the newsletter and submitted their requests for products and truck stops.
To find out more, visit www.thestorenantwich.co.uk or call Karen Makin on 07811 349318.