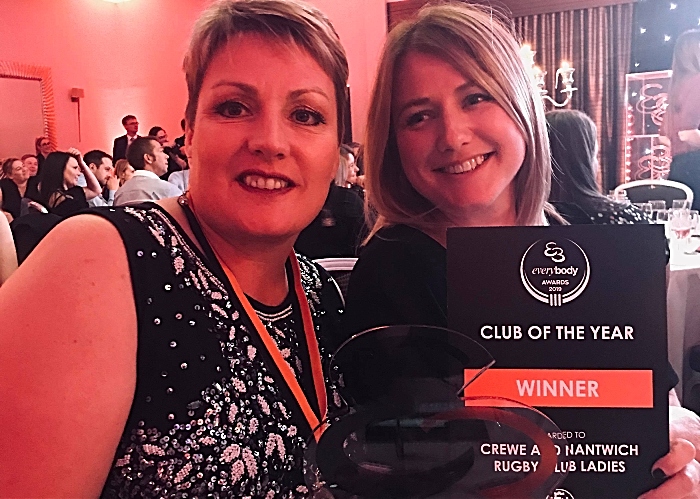 Crewe and Nantwich RUFC received the "Club of the Year" award at the local Everybody Awards held at Crewe Hall.
The club was up against finalists Cheshire Stars Netball and the 5DA Street Dance Academy but managed to scoop the award based on a successful 2018-19 season.
The club was hailed for both the Men's 1st XV and the Ladies 1st XV earning cup victories, the Ladies being promoted into the Championship 2 North division, and for the development of the Ladies side and girls section over the last three seasons.
The Ladies side was formed in 2014 with the support of local coaches Matt Baty, Marc Jones and Nick Kennedy and a core group of local women who were keen to get a side running out at the club.
Since then the Ladies section has grown from strength to strength, seeking promotion twice to reach the Championship 2 North division with more than 40 registered players.
In 2015, the club also formed a Junior Girls section, and now has 45 registered players aged 12-18.
Several have gone on to represent Cheshire and play in the Ladies team and even Premiership side Waterloo Ladies.
Nicola Joyce, Club Chair, said: "For the club to be recognised as club of the year really is fantastic, especially as we head towards our century year in 2022.
"The club currently runs out three senior Men's sides, a Ladies side with an emerging development squad and a mini and juniors section with more than 200 registered players aged five upwards!
"We pride ourselves on being an inclusive club where all ages and abilities are catered for and we are very fortunate to have an incredible team of volunteers; from groundsmen to coaches to parents serving hot dogs after the game; which has been pivotal in making our club a success!
"Each year we also support a number of local and national causes close to the club.
"Last season was no exception when we helped to raise funds for former player Kieran Flynn's adapted wheelchair and raised over £6000 for Mind – and this season we will be hosting a charity match for the British Legion on November 9, where all supporters will receive a warm welcome!"
At the weekend it was a full house of victories for the senior sides.
The 2nds beat Northwhich 17-28, the 3rds beat Bowdon 31 v 38, and the Ladies claimed another five points over Eccles in their first home game of the season in an 89-10 victory.
(Pic, top, of Nik Joyce (Chair) and Ladies player Cherie Davies receiving the award)