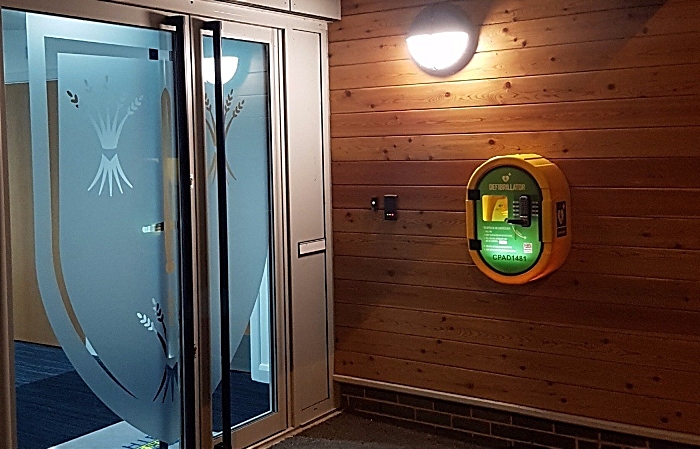 Cheshire Fire and Rescue Service is backing annual Restart a Heart campaign in more ways than one.
The service is directly helping to save lives through defibrillators in all 36 fire engines and outside all 28 fire stations.
Two years ago an Automated External Defibrillator (AED) was mounted on an a wall outside every fire station in Cheshire to be used by members of the public in the event of someone going into cardiac arrest.
Funded by the Cheshire Fire Authority, the AEDs have since been accessed on eight occasions – in Crewe (twice), Holmes Chapel, Tarporley, Nantwich, Wilmslow, Poynton and Powey Lane.
Steve McCormick, prevention manager at Cheshire Fire and Rescue Service, said: "Defibrillators can save lives and firefighters have access to one whilst on duty, whether they are in their fire station or out and about in a fire engine.
"When they have been called out to a fire or rescue incident or are attending community events, members of the public can still access the defibrillators fitted to the exterior walls of every fire station in Cheshire.
"If a defibrillator is required, members of the public should call 999 and ask for an ambulance.
"North West Ambulance Service operators will give you the code needed to gain access to your nearest publicly accessible defibrillator.
"The defibrillators are easy to use and will only deliver a shock if they detect that the patient is in cardiac arrest.
"The devices themselves give you easy to follow instructions and the 999 operators will assist with CPR advice until paramedics arrive.
"The clearly visible defibrillators outside our fire stations have already been accessed a total of eight times since they were fitted two years ago.
"That may not sound like a lot but that is eight lives they may have potentially saved.
"Defibrillators can be lifesaving when needed and we are delighted that all fire stations and fire engines in Cheshire are fitted with these devices and are accessible at all times."
The Restart a Heart campaign is led by the Resuscitation Council (UK) in partnership with The British Heart Foundation, St John Ambulance and Yorkshire Ambulance Service.
On Restart a Heart Day, Wednesday 16 October, an alliance of organisations from all over the world will be coming together to increase public awareness of cardiac arrests and to train more people on how to perform lifesaving CPR.
Steve added: "It is the sixth annual Restart a Heart campaign.
"With saving lives being an essential part of our jobs at Cheshire Fire and Rescue Service, it is a campaign that we are always happy to support."