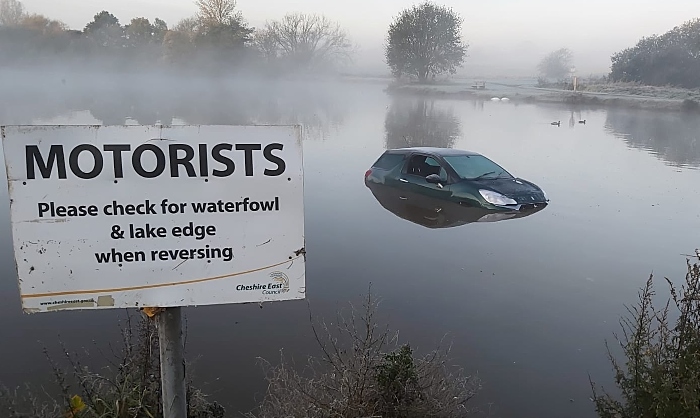 Stunned early morning walkers stumbled across this car partly submerged in Nantwich Lake today!
The dark-coloured vehicle was seen as dawn broke over the swollen waters of the lake.
Police have confirmed a man has come forward to report his vehicle had rolled backwards into the lake accidentally in the early hours today.
These pictures provided by Nantwich News readers show a small car believed to be a Citroen or Renault with its front windows open.
"Hopefully that means whoever was inside managed to get out!" said one witness.
Another who was walking her dog said: "It's certainly not something you see every day!
"Someone is not going to be very popular! I just hope no one was hurt."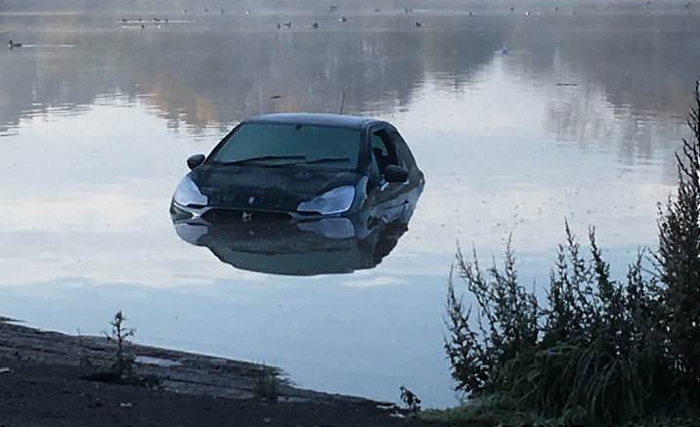 A spokesman for Cheshire Police said: "At 2.45am on Tuesday 29 October officers on patrol in the Nantwich area had been stopped by a member of the public who had discovered a car in a lake on Shrewbridge Road, Nantwich.
"A short time later a man contacted police to report that it was his car and it had rolled into the lake accidentally. He confirmed that there was nobody in the vehicle.
"Recovery work is due to take place later today."
Shrewbridge Road around the lake was closed for around 24 hours over the weekend after 24-hours of heavy rain led to the River Weaver overflowing its banks and caused serious flooding.
A number of riverside properties were flooded and fire crews had to rescue children from one house, as well as two men in two separate incidents from the river itself.
Flood Warnings for Nantwich imposed by the Environment Agency over the weekend are no longer in place as dry weather since Sunday has allowed waters to recede.
(Images courtesy of Nantwich News readers)