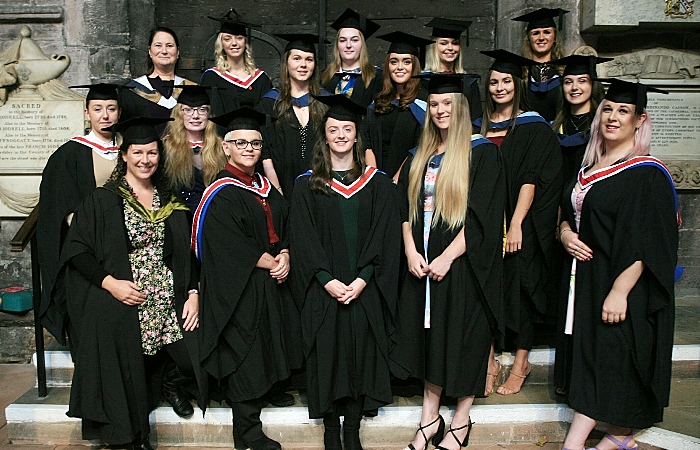 Successful graduates from University Centre Reaseheath in Nantwich have celebrated academic success at a graduation ceremony in Chester Cathedral.
University Centre Reaseheath is a strategic alliance partner with the University of Chester and both education institutions shared a graduation ceremony in the historic building.
Three hundred Reaseheath graduates were awarded degrees in agriculture, animal science, business and events management, countryside conservation, equine science, food science and horticultural plant science.
Among them were dairy technicians from Reaseheath's Eden training programme – an initiative supported by companies in the dairy industry and aimed at producing world-class employees through degree level apprenticeships.
Reaseheath supports this type of higher level learning, which allows those already in employment to continue in practical and academic study.
University of Chester Vice Chancellor Timothy Wheeler said all graduates had proved they had reached a high and recognised standard of academic excellence and could look forward to a bright future.
He emphasised that the University of Chester was proud of its close links with University Centre Reaseheath.
Dean of Higher Education Peter Greenall added: "We are very proud of the success of the degree programmes which we run in conjunction with University of Chester, particularly in agricultural and animal sciences, and look forward to expanding this partnership in the future.
"Our degrees are designed, resourced and delivered in partnership with the industries we serve, ensuring that they deliver the relevant academic knowledge and practical skills that employers need.
"As a result, our graduates leave us with the transferable skills and competitive edge to succeed and are ready to take advantage of worldwide opportunities. We are looking forward to following their journeys within their chosen careers."
Five Reaseheath graduates were singled out for special recognition:
• Dean's Award for Outstanding Achievement in Undergraduate Research Hannah Morrow (BSc (Hons) Applied Plant Science and Production Technology) First class
• Dean's Award for Outstanding Achievement and Personal Progression Lilly Harris (BSc (Hons) Equine Science) First class
• Meredydd David Award for Academic and Technical Excellence Connor Smith (BSc (Hons) Agricultural Business Management) First Class
• The Dairy Industry Student Award (sponsored by The Society of Dairy Technology) Katie Hookway from Arla Foods Taw Valley Creamery, Devon
• The Dairy Industry Student Best Final Year Project Award (sponsored by The Society of Dairy Technology) Ben Morris from Glanbia Cheese, Llangefni