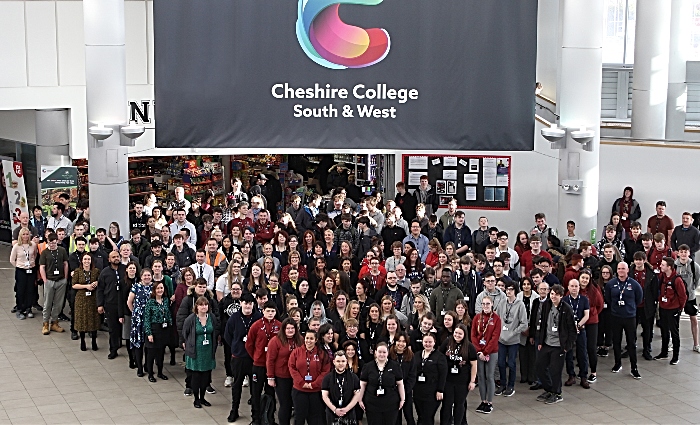 Cheshire College – South & West has been rated "Good" in its latest Ofsted inspection.
It was the first full inspection since South Cheshire College and West Cheshire College merged in March 2017.
Ofsted praised the college for its "highly-effective" education programmes, which meet needs and aspirations of learners and extends beyond the knowledge and skills needed to complete their qualifications.
Dhesi, Principal and CEO, said: "Learners and apprentices at our college are able to flourish as a result of good-quality education and the opportunities made available to them.
"We strive to enhance every experience, ensuring learners know that we want them to be successful and enjoy their learning."
Ofsted highlighted how college leaders and teachers have high expectations for learners, including those with Special Educational Needs, and what they can achieve on education programmes.
Learners were praised for their behaviour, which contributes to a professional, friendly and positive environment across all campuses.
Inspectors summarised the curriculum as carefully planned, with considerations to the content and delivery of programmes, enabling learners to gain a basic insight before carrying out complex tasks, that inspire and motivate.
Teachers encourage learners on programmes at all levels to be ambitious, providing them with substantial knowledge and skills, says the report.
Inspectors also say learners and apprentices at the college are able to undertake additional qualifications to enhance their skills, and were impressed with the range of support learners can access at college, including the valuable careers guidance and pastoral care.
Eryk Nowicki, 18, the college's Student President, said: "We are lucky to have the opportunity to learn in a warm, welcoming, fun and diverse college, where we are treated like adults and make friends for life!
"Teachers push us to excel, raise our aspirations and give us the confidence to achieve."
Dhesi added: "One of the most pleasing elements of the feedback was that, in Ofsted's view, we are very much a single college, with three campuses serving the very different communities equally well.
"It was fantastic to see that Ofsted recognised our hard work to achieve this.
"It is clear the employers and universities we work in close partnership with value our contribution to their organisation and their learners.
"We will continue to work with employers, universities and other organisations, to strengthen this bond, ensuring that our learners progress to employment or higher-level learning with strong values and skills, allowing them to make a positive contribution to society.
"We are thrilled with this result. I would like to personally thank the staff, learners and stakeholders for the vital role they continue to play at Cheshire College – South & West.
"We have reached a milestone on our journey as a new college."
If you are interested in studying at Cheshire College – South & West, or for more information, call 01270 654654 (Crewe Campus) 01244 656555 (Ellesmere Port & Chester Campuses) or visit ccsw.ac.uk