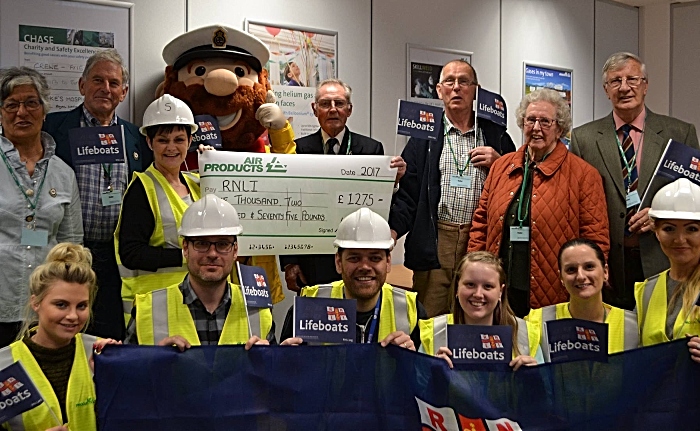 A Crewe & Nantwich RNLI fundraiser has been recognised in the New Year Honours List.
Audlem's Rodney Cottrell is one of five RNLI volunteers to make the Queen's New Year Honours List 2020.
Rodney, who is chairman of the Crewe & Nantwich fundraising branch, will receive a British Empire Medal.
He has volunteered for more than 50 years.
Rodney (pictured in the centre of the above image) learned to fundraise as a 12-year old Scout, helping to boost finances for club activities and continues to be a keen supporter of Scouts.
Notably, Rodney and his wife recently saved the local Scout and Guides hut through lottery and matched funding.
Although Rodney is over 80 years old, he continues to be an impressive role model in his local community.
A passion for sailing saw him gain interest in the RNLI and in 2007, he became chairman of his local fundraising branch through the support of his wife.
Rodney's enthusiasm saw him grow the branch's annual income from £2,000 to an average £20,000 with multiple fundraising events, including the Audlem RNLI Festival, helping the branch to increase donations and support.
In addition, the annual 'Three Shires Cycle Sportive', now in its fourth year, continues to grow attracting more than 500 participants.
Rodney said: "Sailing has always been a big part of my life so I felt it was responsible to be part of the RNLI and do everything I could to raise funds.
"I'm absolutely delighted to receive the British Empire Medal."
Most recently, Rodney has run the service of a canal boat called the 'Audlem Lass' that carries passengers from the Overwater Marina with all donations given to the RNLI.
However, he felt he could still be more inclusive.
In 2015, he launched the 'wheely boat' project to raise money for an adapted boat which takes children and adults with disabilities on boat trips along the Shropshire Union Canal.
And he has sourced a specially adapted 'wheely boat bus' for those who face difficulties reaching the marina.
RNLI Chief Executive, Mark Dowie, said: "The RNLI is very proud of the volunteers who have been recognised in this year's New Year Honours.
"Thanks to the tireless dedication and courage of our volunteers, fundraisers and staff, we are able to continue to do our vital lifesaving work."