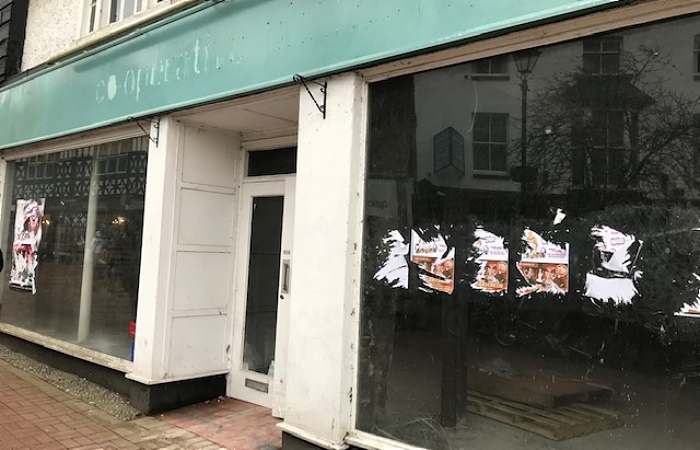 Empty shops and crumbling buildings are leaving "eyesore" sites across Nantwich town centre, it was claimed at Nantwich Town Council.
Councillors heard how empty and boarded up shops, as well as poorly maintained buildings, are leaving a bad impression of the town for visitors.
Peter Epton, from Nantwich Civic Society, called on councillors to exert pressure on landlords and building owners to tidy up the historic town centre.
Mr Epton, speaking at Thursday's town council meeting, said: "We are increasingly concerned about the appearance of the town, and of the number of empty properties in the centre.
"Such as the former chemist in High Street, the old Union pub, the RBS bank, and now with Bridgfords surrounded with scaffolding.
"Several other buildings are in poor condition, those to the right of the Bookshop, and The Gables in Beam Street.
"In addition to that, there are many examples of shop fronts with extremely poor window displays – The Works, B&M, AbleWorld, WHSmith.
"Most of the roads and pavements are extremely poor. It all gives an untidy and uncared for impression of the town.
"This is a town we consider a tourist and visitor attraction.
"The repairs carried out by Cheshire East Council are extremely poor. Most people perceive a lot of what CEC does is a waste of time and money.
"Is there anything Nantwich Town Council can do to improve the situation, and what help can volunteer groups do to help the town centre?"
Cllr Peter Groves said he had discussed many of the issues with Nantwich Civic Society.
"We've had a conversation about the building where the chemist used to be," he added.
"It's unlikely the owner of that building will be spending money on the frontage.
"But every time I walked past the former chemist I groan – it's really becoming an eyesore.
"The Civic Society is prepared to put some grant towards placing some attractive vinyls on the front of the building.
"The town council has written a stiff letter to owners of the former Union and RBS buildings asking them to improve their appearance."
Cllr Arthur Moran hinted that the RBS bank building on Pillory Street had now been sold but no details emerged as to the buyer.