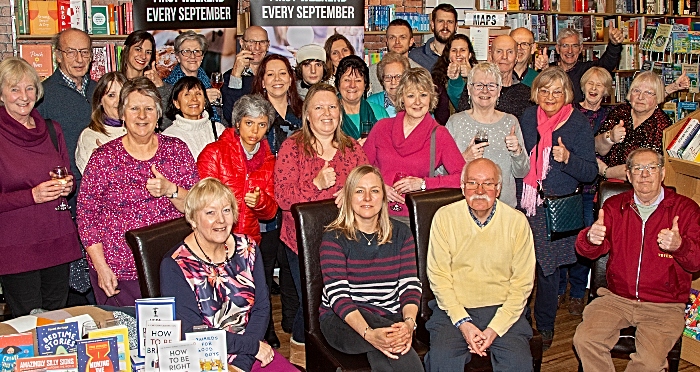 Nantwich Food Festival volunteers were hailed at a celebration event at Nantwich Bookshop as planning for the 2020 event gathers pace.
Festival organisers laid on food and drinks at the bookshop on High Street as a thank you to all those who helped at the 2019 festival.
Christine Farrall, Festival Chair, told volunteers: "My fellow directors want to join me in our heartfelt thanks to every one of you for your loyal and selfless volunteering.
"You are what makes Nantwich Food Festival very special, so that it attracts repeat visitors and exhibitors to the town.
"A survey of Festival visitors showed that only 4 out of 10 visitors realised that the Nantwich Food Festival is run totally by unpaid volunteers.
"Most visitors think it is organised by either Nantwich Town Council or Cheshire East Council."
New members of the organising team and also the two new directors have been appointed this year.
Nanna Pedley will continue her role as Town Business Liaison Manager, but will also become a director.
Also new is Richard Morgan Wynne, whose main role involves park and ride, road signage and gaining permissions for any necessary road closures.
New volunteers for 2020 are Marcin Solarz and his wife, Aga.
Marcin joins the organising team as the new sponsorship manager, and has responsibility for introducing new cost-effective sponsorship packages to interested local businesses.
They can both be contacted at [email protected]
Paul Miller joins the exhibitor team, which deals with the myriad of work associated with visiting exhibitors. His wife Jane already volunteers.
Existing Festival volunteers Nathan Arndt and Vicky Barrett join the organising team as joint committee secretary and task coordinator.
They will take on most of the minute secretary duties, in addition to general administration.
The Food Festival has appointed Charlotte Lightbody to the position of litter and recycling lead.
And Karen Young has been promoted to entertainment lead, with a full programme to be announced in coming weeks.
The 2020 Nantwich Food Festival takes place on September 4-6. For more details go to www.nantwichfoodfestival.co.uk