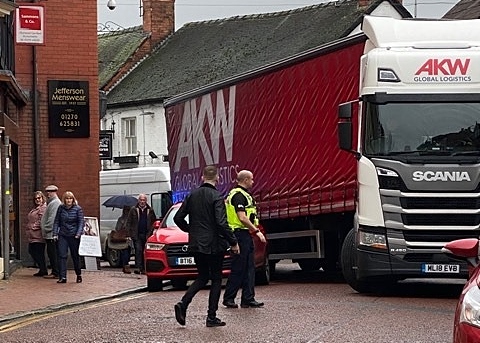 An HGV driver's vehicle became jammed on Pillory Street in Nantwich, causing chaos in the town centre today.
These images show how the lorry was unable to move along Pillory Street in the town due to parked vehicles, including one on double yellow lines.
And with traffic piling up behind it, it had caused tailbacks all the way back to the station within minutes.
Police were called out to help the driver manoeuvre the HGV between cars parked on either side.
Bemused shoppers and pedestrians looked on in amusement for around half an hour.
One eye witness said: "The whole area was at a complete standstill for about 30 minutes!
"The red Audi was parked on double yellows, but the car on the other side was eventually moved so lorry could get through.
"It was chaos."
(Images courtesy of Nantwich News reader)