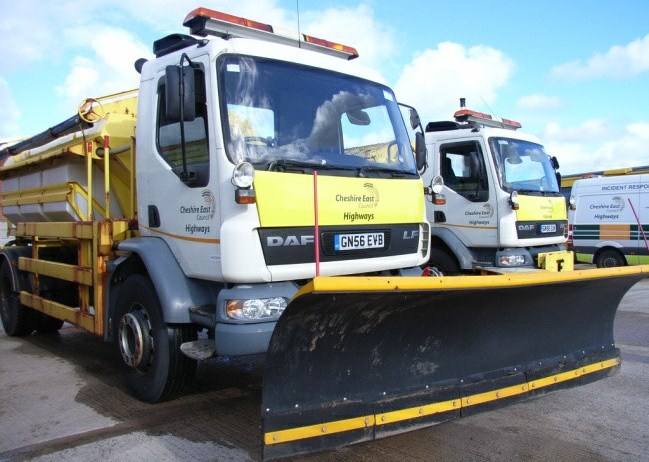 A Cheshire East Council report shows the authority could be about to cut 230km of roads from its winter gritting routes – including a number of rural roads around Nantwich.
The Well-Managed Highway Infrastructure (WMHI) report, to go before councillors next week, highlights potential changes to its winter service.
And it recommends, to bring it line with the national "Well-Managed Highway Infrastructure Code of Practice", it should remove 230km and add 103km which were previously not on the routes.
Key rural roads in the firing line include Coole Lane from the A530 to the A525, Sound Lane and Swanley Lane, Bridgemere Road from the A529 onto to Hunsterson Lane and Checkley Lane, Wrinehill  Road and Cobbs Lane.
Also facing the gritting chop is Long Lane from Burland to Haughton, as well as all of Wettenhall Road from Reaseheath up to Winsford Road.
Wybunbury Cllr Janet Clowes today said she had "grave concerns" about the plans, and  questioned the viability of a public consultation held in summer 2018.
She said: "They had just 96 responses during the consultation which was held in August when parish councils are not sitting and schools are off.
"I have grave concerns about the alleged consultation process. A lot of these lanes, although narrow, are busy and used as 'rat runs'
"Bridgemere Road and Hunsterson Lane is the only way to get from Audlem side to Crewe.
"It also leads to Bridgemere Primary School where all pupils have to be taken by car. If roads are not treated, that will cause problems.
"These changes have been ill-thought out, and had the parish councils been consulted properly we could have pointed out a number of issues this could cause for users of rural lanes."
The report says that under a "winter route optimisation" exercise, the proposed winter treatment network has been developed using a "risk based process".
"It takes into consideration local risk factors including usage, local amenities, vulnerable users, public transport and local risks such as steep gradients, cold spots and other known local issues," adds the report.
"Each section of highway within the borough has been risk assessed in line with the risk assessment pro-forma which can be made available upon request.
"This approach ensures a uniform and consistent approach across the network.
"As a result of the risk assessment process, 995km out of 2,700km (37%) of the highway network has been identified as requiring routine winter treatment.
"The proposed approach sees 103km of previously untreated roads added to the network, 892km of previously treated roads remaining on the network, and 230km of previously treated roads removed from the treated network."
It says the council will retain the services of farm contractors, who in times of more extreme weather may be used to help with winter maintenance to specific routes.
The report also says a grit bin risk assessment has been developed to "assess the suitability of locations with regards to the siting of grit bins".
"Where roads have been removed from the treated network, a grit bin risk assessment will be undertaken to ascertain if a grit bin is required," it continues.
The report is to go before Cheshire East Council Cabinet next week (February 4).
If approved, it could be brought in as soon as the 2020/21 winter season.
Click here to view the Nantwich highways area map detailing roads to be lost and roads to be added.
Click here to view the Crewe highways area map detailing roads to be lost and roads to be added.