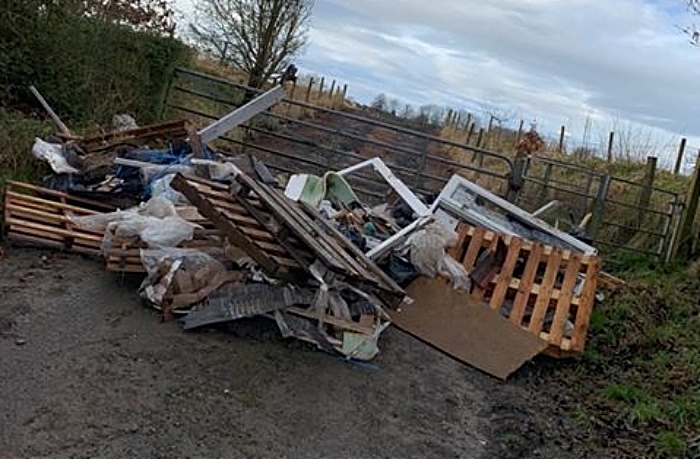 Fly-tipping has cost taxpayers in Cheshire East more than £860,000 over the past eight years, alarming statistics revealed today.
Overall costs of clearing all incidents of fly-tipping in the borough totalled £863,818, figures obtained in a BBC Shared Data Unit investigation show.
There were a staggering 18,405 incidents of fly-tipping recorded over the same eight-year period, according to the figures.
And there has been a sharp rise in the number of incidents, with 1,279 recorded in 2011-12 compared to more than double that at 2,830 in 2018-19.
But most incidents are small scale, with around 205 incidents requiring a full tipper lorry to clear away the rubbish and another 51 requiring multi-vehicle clearances.
Larger incidents are more costly to clear. The 205 tipper lorry incidents cost the taxpayer £51,250, and the 51 multi-vehicle clearances cost £20,400.
The figures come after the latest incident reported earlier this week when a lorry load was dumped off the A51 Nantwich Bypass (pictured, above)
And another recent incident happened close to the airman's grave close to the banks of the River Weaver in Nantwich. (below)
In neighbouring Cheshire West and Chester, the full cost of clearing tipper lorry and multi-vehicle incidents is almost double over the same period, at more than £153,000.
And they have also seen a doubling in the number of incidents overall, from 2,208 in 2011-12 compared to 4,068 in 2018-19.
The full cost of clearing all fly-tipping incidents in Cheshire West and Chester over the past eight years is an eye-watering £1.62 million.
Local councils have to collate all fly-tipping data in their areas and submit the figures to DEFRA, which publishes them on a yearly basis.
Since 2011, councils have also recorded whether the amount tipped was a 'tipper lorry load' or 'multi-vehicle in size'.
Major incidents have risen in Cheshire West and Chester, but have stayed roughly the same in Cheshire East with an average of 32 every year.
A Cheshire East Council spokesperson said: "Fly-tipping is a serious anti-social offence, which can carry a maximum fine of £50,000 and/or a prison sentence, depending on the severity of the offence.
"The council will act wherever there is evidence to bring about a prosecution and we would ask members of the public to be vigilant and to report any incidents of fly tipping.
"The council's environmental services company Ansa responds to reports of fly-tipping and works closely with the council to assist with subsequent investigations."
Local authorities are responsible for investigating, clearing and taking appropriate enforcement action in relation to small-scale fly-tipping on public land.
In England, the Environment Agency is responsible for dealing with larger-scale fly-tipping, more than a lorry load, as well as hazardous waste.
Campaign groups say criminal gangs are behind many of the larger scale incidents, offering 'waste clearance' services and then dumping it to avoid any disposal costs.
Sarah Lee, head of policy at Countryside Alliance, said: "Fly-tipping is growing every year – a crisis affecting farmers and landowners, and driven by criminal gangs running illegal dumping operations.
"95% of fines for fly-tipping are lower than the cost of hiring a skip, which makes the risk for criminal gangs minimal.
"When you think of fly-tipping in the countryside you have images of fridges, sofas and other household waste – but you are now getting fake waste companies hiring out barns and farm buildings, dumping waste in them, doing a runner and leaving it for farmers to dispose of the waste at huge cost to them."
Julia Mulligan, chair of the National Rural Crime Network, added: "Failures to act against fly-tipping misunderstand the impact on communities and rural businesses.
"Not only does it make people feel less safe and blight our communities, but the financial cost of dealing with the waste is significant.
"Most importantly, though, it is generally thought larger scale fly-tipping stems from serious and organised criminals, and so failing to deal with those offenders adequately has knock-on consequences."
Councillor David Renard, environment spokesman for the Local Government Association, said:
"Fly-tipping is illegal, a serious public health risk, and costs taxpayers in England tens of millions of pounds a year to clear up.
"This is why councils take the issue very seriously and took action on nearly half a million incidents in 2018/19 – around 5,000 more than the previous year and up by nearly 75,000 in six years.
"Councils are determined to crack down on the problem, including installing CCTV at fly-tipping hotspots which has led to successful prosecutions.
"However, prosecuting fly-tippers often requires time-consuming and laborious investigations, with a high threshold of proof.
"The new government needs to ensure councils have the funding needed to investigate incidents and should review sentencing guidelines for fly-tipping, so that fly-tippers are given bigger fines for more serious offences to help deter incidents."