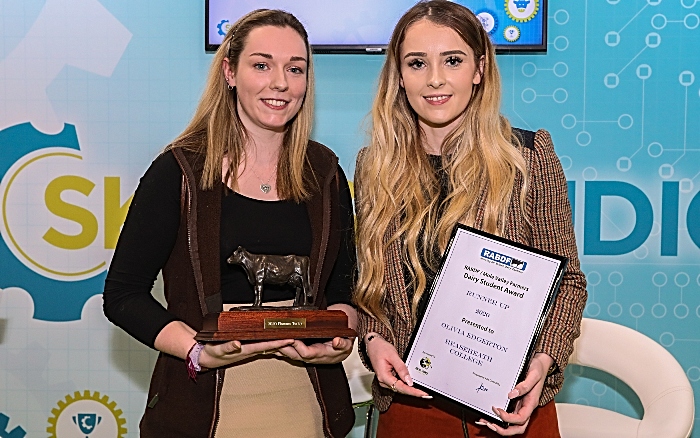 An agriculture undergraduate from Reaseheath College in Nantwich has been crowned runner-up in a prestigious dairy competition.
Olivia Edgerton was second in the Royal Association of British Dairy Farmers (RABDF) 2020 'Dairy Student of the Year' contest.
Olivia, 22, who is in the final year of her Foundation Degree in Agriculture with Dairy Herd Management, received the award at Dairy-Tech – an industry-leading dairy event for next generation dairy farmers, managers and technicians.
Olivia and eventual winner Florence Turley, a Harper Adams University student, were invited on stage to interview prominent Cumbrian dairy farmer Robert Craig.
They also joined a panel discussion about challenges and opportunities awaiting young people in the dairy industry.
Olivia, who was nominated for the award by her course managers, was selected as a finalist after shining in two qualifying rounds.
She aid: "The whole journey has been amazing and I feel very proud to have reached the final two in such a high profile competition.
"I'd like to thank my lecturers for their support throughout and John Yarwood, a partner in Nantwich Farm Vets, for helping me to prepare my presentation.
"The dairy industry offers so many opportunities and I'm very excited to see what the future holds."
Peter Alvis, RABDF Chair and head judge, said: "The standard of entries was extremely high this year but Florence and Olivia both stood out with their innovative ideas and well-rounded arguments.
"Both finalists had a clear understanding of the challenges and opportunities set to face the industry in the coming years and came up with great ideas of how to exploit these for the benefit of the sector."
Olivia, who completes her degree this summer, hopes to join a graduate programme with a large dairy based company or alternatively teach inner city pupils about agriculture and rural life.
She lives in Whitchurch and is a former pupil at Sir John Talbots School.
(Pic: Olivia Edgerton (right) and Florence Turley celebrate receiving their RABDF awards)