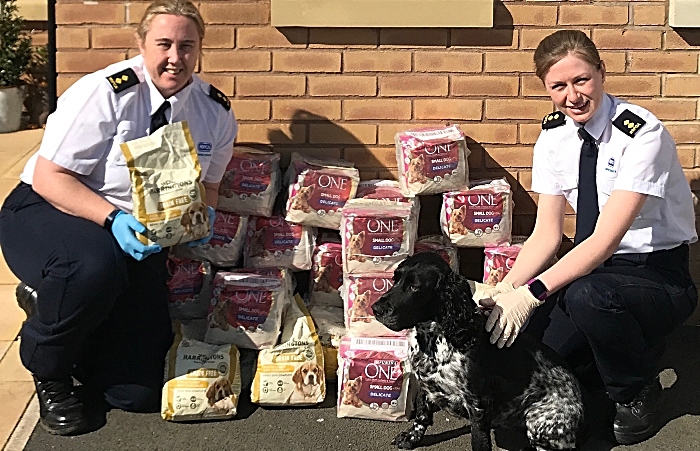 Big-hearted RSPCA inspectors have teamed up with Morrisons depot to deliver dog food to South Cheshire pet owners self-isolating in lockdown.
Three inspectors Jenny Bethell, Nadine Pengilly and Caren Goodman-James have been busy dropping off vital supplies to those who cannot leave their homes during the COVID-19 pandemic.
The pet food is regularly donated to the charity by Morrisons distribution centre in Northwich when they have surplus products which are getting close to the sell-by date.
Inspectors would normally hand these to people they come across during the course of their work who are struggling financially to feed their pets.
They were recently given another large donation so invited people who were self-isolating and in need of dog food to get in touch with them via various local Facebook sites.
They then arranged to drop the food parcels safely at the pet owner's door while wearing gloves.
Nadine said: "We are always very grateful for the donations we receive from Morrison's and we often distribute them to people who we come across as struggling financially to perhaps feed their pets.
"Obviously at this time we realised that some people would be struggling to get pet food because they are self-isolating so we decided to invite anyone in this situation to get in touch via local social media groups and we have had quite a response.
"We have been busy dropping off dozens of bags of food wearing gloves and safely keeping a distance."
Caren added: "We have received lots of positive feedback from those who have received the food as they are unable to leave their homes due to self-isolation.
"They have sent us photographs and messages of support on social media (see photo above) which was great so we know we are making a positive impact on their lives."
A spokesman for Morrisons said: "We're proud to play our part in feeding people across the UK at this challenging time, and their pets too!
"We hope the dog food we've donated will make life a bit easier for those who are self-isolating at the moment."
You can find out more about how to about how to care for you pets during self-isolation by visiting the RSPCA website here.
To help the RSPCA though this challenging time, visit www.rspca.org.uk/give or call our donation line on 0300 123 8181.