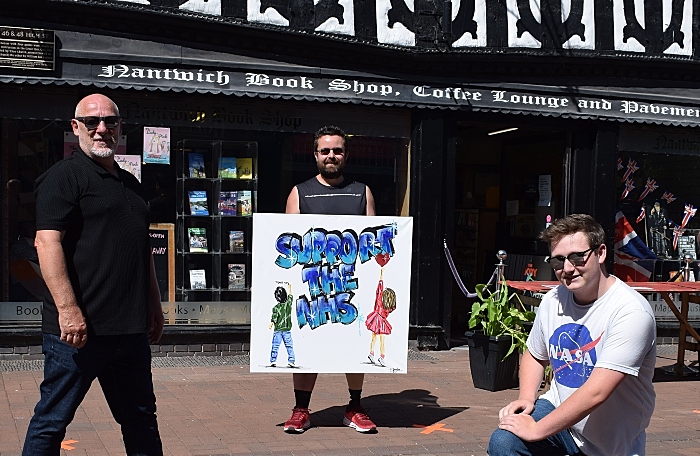 A one-of-a-kind canvas by a Nantwich artists has been auctioned off with proceeds going to an NHS charity, writes Jonathan White.
The artwork called 'Support the NHS' was created by talented Tony Denton and was inspired by NHS staff who work on the frontline.
The auction was held online and purchased by Doug Thomson, from Nantwich, who paid generously paid substantially more than his winning bid.
It will go to Mid Cheshire Hospitals Charity, which supports patients, their families, and staff at Mid Cheshire Hospitals NHS Foundation Trust.
The artwork was presented to Doug by Tony and his son Harvey.
During the auction period the 'Support the NHS' painting was on display in the shop window of the Nantwich Bookshop & Coffee Lounge on High Street.
Alongside it was another of Tony's pieces – a painting of 100-year-old fund-raising war veteran Captain Tom Moore.
Tony said: "It's an honour and a privilege to raise money for the NHS and the community.
"Thank you to the Nantwich Bookshop & Coffee Lounge for hosting my paintings."
Carole Salmon, Community Fundraiser, Mid Cheshire Hospitals Charity, said: "Big thank you to Tony for his creative fundraising.
"The money raised will be used to support the physical, mental and emotional wellbeing of Mid Cheshire Hospitals Foundation Trust staff during the COVID-19 pandemic and beyond."
Steve Lawson, of the Nantwich Bookshop and Coffee Lounge, said: "We were honoured we could help in a small way by displaying the picture in the Bookshop window.
"We are really pleased it has raised some much-needed funding."
(Words and images by Jonathan White)