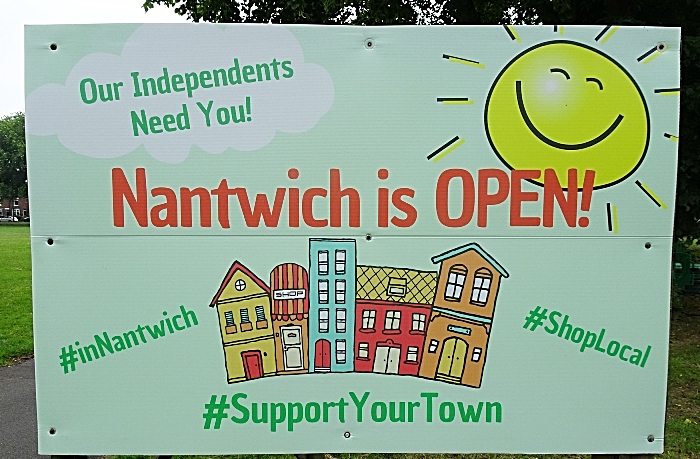 Non-essential retailers in Nantwich have reported "good" trade since reopening yesterday as the three-month high street lockdown was relaxed across England, writes Jonathan White.
Shop safety measures in place include hand sanitizer points, floor markings for social distancing and plastic screens at tills.
The indoor section of Nantwich Market also reopened today (June 16) with social distancing measures in place.
Independent traders clubbed together to pay for boards around the town promoting the fact Nantwich "is open for business".
Denise Lawson, from Nantwich Bookshop & Coffee Lounge, said: "It has been fabulous.
"Our customers have been thrilled to come into the shop."
Corinne Taylor, from Inside Paradise, said: "Really happy lots of people coming out to support the town we have been really busy."
Jeanette Ellis, from Pickwicks Boutique, said: "It's been really busy, I haven't had a drink since 10am. Crazy day, but good."
Liz Parkin, community engagement consultant from inNantwich, said: "I have worked with many of the independent traders in Nantwich for 10 years and felt there was an opportunity to launch a joined-up campaign to make sure the message that #NantwichIsOpen was received loud and clear by residents.
"Having heard from so many people about how much they appreciated the "Thank You NHS & Key Worker" boards that we put up at the start of lockdown, we decided to make use of a few of them with a cheery #NantwichIsOpen message.
"A small group of independent traders all contributed to the costs of the boards and posters and we had them up within a few days.
"A friend of mine, Gareth Williams, owner of Construction Linx, who has found a new hobby of Street Poetry, very kindly composed a poem about our independents.
"In the first 48 hours of the video being launched on the inNantwich Facebook Group it was seen over 12,000 times with nearly 200 shares.
"I am over the moon that our lovely independents, the backbone of our floral market town, have had a good welcome back.
"I really hope that people get behind them and keep shopping in Nantwich instead of shooting off to Hanley and Cheshire Oaks!"
Cheshire East Council has setup temporary social distancing measures from Monday 15th June to protect people and support local businesses in 16 towns and larger villages.
Two areas of Nantwich are closed to all but essential traffic to help social distancing:
Beam Street from the junction at Manor Road through to the junction at Waterlode (includes Swine Market and Oat Market) and Pillory Street/Hospital Street from the roundabout at Waterlode near The Railway Hotel to The Gullet. Church Lane car park will also be temporarily closed.
For further information on Cheshire East Council social distancing measures visit: https://www.cheshireeast.gov.uk/council_and_democracy/council_information/coronavirus/high-street-social-distancing-measures.aspx