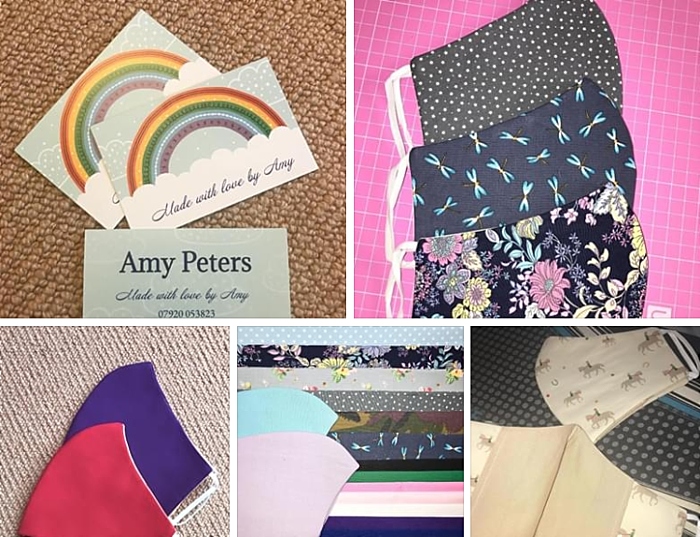 A young fashion graduate from Wistaston is flat out making these trendy coronavirus face masks after her charity creations caught the eye!
Amy Peters, 21, graduated from her Fashion Design course at Liverpool John Moores University, just last year.
When she heard about "For the Love of Scrubs" charity appealing for help making essential PPE for NHS staff, she jumped at the chance to use her course skills by making masks and gowns.
And the former Brine Leas School student, who was furloughed from her restaurants job when lockdown happened in March, has been busier than ever.
Amy volunteered her services for the charity to help key workers on the Coronavirus frontline in South Cheshire.
Then, following a request from her granddad, she looked into making her own version of masks – 3 layer 100% washable cotton with a filter pocket to NHS medical nursing grade standard design.
Gradually more orders were placed with a generous local donor match-funding up to half of the 200 ordered (to date) to go to local care homes and hospitals.
Now Amy is supplying masks to a company called Tisski, in Warwickshire, who are equipping both employees and their families.
And following positive feedback, she has since tailored more designs to adjust for a slightly smaller mask for ladies, with children's sizes available too.
Amy said: "It's a home project that keeps me busy while I am out of work.
"And it puts my sewing skills to good use while I have some free time.
"It's now mandatory to wear face masks on public transport in England, so while I am not making and donating to For The Love of Scrubs, I am selling my own masks!"
A spokesperson for Tisski said: "We were delighted to find an opportunity to purchase masks to protect our team which did not deplete NHS stocks.
"They are fantastic quality, and we love the option of different fabric patterns for employees children.
"We are extremely grateful to Amy for her excellent products and service."
So far Amy, who worked at The Bull's Head in Walgherton, has advertised her goods on Facebook and Instagram only.
They are on sale at £8 for plain and £9 for patterned.
Child sizes 2-5 years and 6-10 years are £6.50 plain and £7.50 patterned.
All masks are also "overlocked" which prevents fraying at the edges, are 3-ply as advised by NHS, and made with an additional pocket to add a filter.