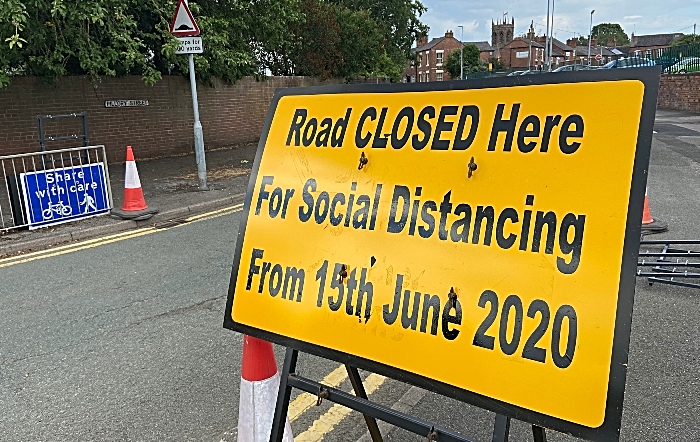 A Nantwich woman has described how she and two others in her party had to "jump for their lives" and were nearly knocked over on Pillory Street.
They said they were almost hit by a BMW car being driven down the 'access only' closed road today (June 20).
And the woman, who we have agreed not to name, said their visit to the town was "a horrible experience" due to traffic on the roads which are supposed to be closed.
She laid the blame firmly at the feet of Cheshire East Council for failing to enforce proper closures and "misleading" people.
And she fears it's only a matter of time before a serious incident happens on one the closed roads.
The closures, as revealed by Nantwich News, were introduced on June 15 when non-essential shops were allowed to reopen as part of easing of lockdown restrictions.
The woman, who often does shopping for elderly residents, said: "I'm just appalled at what is happening.
"We were nearly bowled over by this BMW, we had to jump for our lives out of the way.
"Then we saw at least eight motorcyclists just parked up outside Pillory House eating and drinking.
"And on Hospital Street, I watched this posh-looking Cheshire couple emerge from a store with shopping and get into a big Range Rover and drive off! They clearly didn't believe closures applied to them.
"I love this town to bits, was born here and lived back here since 1993. I will do anything to support local businesses in the current times.
"But over the past few weeks I've been so angry with Cheshire East.
"They are responsible here, they have given everyone the impression that these streets are now safe pedestrian areas for social distancing – they are far from it.
"I stopped a police patrol car a bit later to explain, and the officer told me the road closure is "advisory" only and not in any way enforceable."
A senior police chief told Nantwich News the responsibility for "policing" the road closures falls with the local authority.
When asked if local officers should be used to monitor any breaches of the road closures, he said "no" and added: "It should be highways who are responsible for this."
Cllr Laura Crane, Cheshire East cabinet member for highways, said previously that the temporary road closure measures were brought in on June 15 to "protect people and local businesses".
She said: "While these temporary arrangements may disrupt the travel patterns of some residents and visitors, they are necessary to protect everyone, especially those who will be using the shops.
"We are being careful to implement the government's measures alongside avoiding unnecessary disruption.
"The works are an important first step and these measures will be closely monitored and adjusted as necessary."
Nantwich Town Council has asked individuals to air views about the new measures by sending a personal message via its Facebook page or commenting via the post on their Facebook page,
or by sending an email to [email protected]
For further information on temporary measures visit Cheshire East page here.
(Images by Jonathan White)