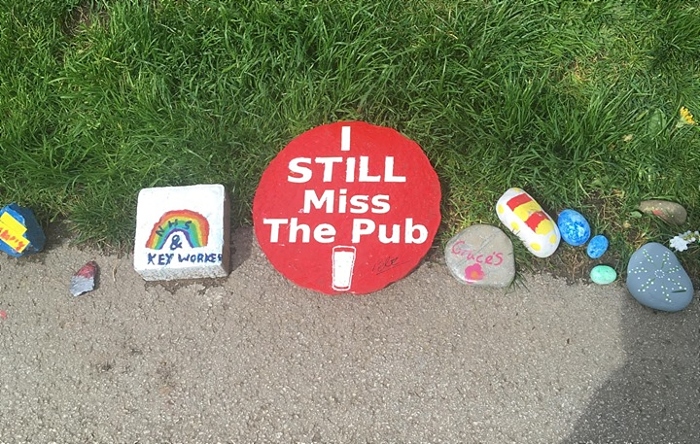 Two popular "I Miss The Pub" painted stones on Stapeley's Happy Trail have now gone missing!
Mystery surrounds the disappearance of the bright red painted stones, which were a popular feature of the amazing Happy Trail along the Stapeley estate's orchard path.
Creator Peter Leeson said it's a shame that someone "feels the need to ruin something fun" but has vowed to create a third one – when pubs DO reopen on July 4!
Stapeley youngster Georgia Speet started the happy stone trail initiative in aid of mental health charity MIND at the start of lockdown.
And it inspired Peter to come up with his creation.
He said: "I created the first "I miss the pub' sign because I do miss the pub, and I thought it would cheer other people as they walked along the happy trail during their hour a day lockdown walk.
"The stone became a bit of an icon and I became known on the Stapeley estate for the stone.
"After the first one went missing, the reaction that it got on a local community group made me laugh so I decided to create the new and bigger 'I STILL miss the pub'."
Residents on the estate also donated to the happy trail sponsorship page to "commission" a new stone.
But this week, Peter's second stone also went missing, believed stolen.
"It's a shame as I know that it has made people smile and been the highlight of the lockdown walks for both adults and children," he added.
"I'm happy that the Cronkinson Farm Pub will be open soon so I might do another one to commemorate this happy occasion – I may even go bigger!
"It's just a shame that someone feels the need to ruin something fun that the community have enjoyed over the past few months, however this isn't the end!"
Residents on Facebook voiced their disbelief at the thefts.
Julie Morley said: "Hard to believe. Has this one been stolen too? This always brought a smile to my face."
The Happy Trail which has hundreds of not thousands of brightly painted and decorated pebbles and stones has become a visitor attraction over the lockdown period.