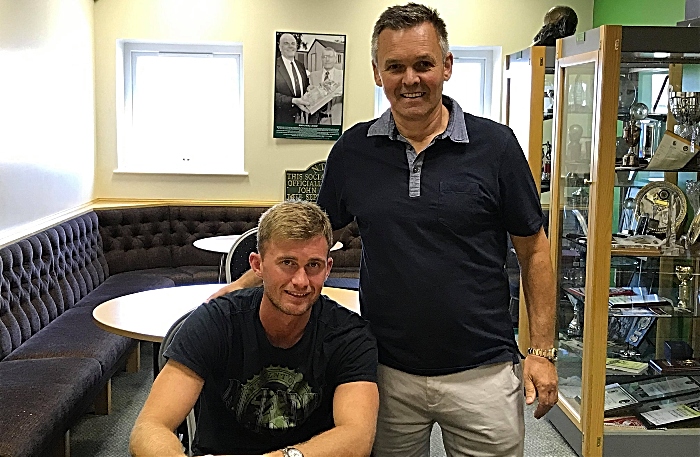 Nantwich Town's 2020-21 squad is taking shape with the team's first new signing of the summer, writes Ryan Batty.
Full-back Michael Koral has signed for the Dabbers from 1874 Northwich, and Josh Langley (pictured) signs a new deal.
Dave Cooke's team, despite not knowing when the season will start, will begin pre-season on Saturday August 1.
Koral was instrumental in the 1874 Northwich side that looked likely to win the North West Counties Premier Division title, before the season was ended dashing their hopes of promotion.
Nantwich manager Cooke said: "I've known Mike for a long time as he came through the ranks at Crewe Alexandra with Sean and Caspar.
"Mike has developed into a wing–back at 1874 Northwich, he is technically good on the ball and he will add to the strength of the squad for next season."
Meanwhile, Josh Langley (pictured) has signed a new one-year deal with a one-year option with Nantwich Town.
This would take the contract up until May 2021, the one-year option clause would take the deal up until May 2022.
As well as Koral and Langley's new contract, The Dabbers have now signed registration forms for many of last season's squad.
Committed and signed players so far include:
Troy Bourne
Aaron Burns
Sean Cooke
Matty Devine
Greg Hall
Ben Harrison
James Hawkins
Prince Haywood
Caspar Hughes
Mike Koral
Josh Langley
Jimmy Lawrie
Joe Malkin
Clayton McDonald
Joe Mwasile
Callum Saunders
Joel Stair
Luke Walsh
David Webb
(image of Josh Langley courtesy of Jonathan White)