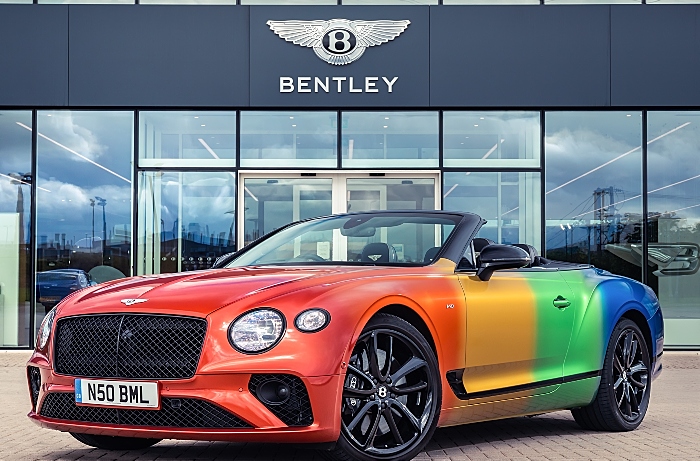 Bentley Motors have teamed up with Cheshire East Council as the main partner of the Cheshire East Virtual Pride 2020.
The partnership with the Crewe-based luxury car-maker signifies a major step up for the profile of Pride events in Cheshire.
The online event will take place on Saturday July 25 from 2pm to 7pm.
It will feature an eclectic mix of interviews, music, competitions, performances and information supporting the LGBT+ community.
Presenters will introduce acts and interviews as the council makes the best effort possible to recreate Pride in the Park to an online audience.
Cllr Jill Rhodes, Cheshire East Council cabinet member for public health and corporate services, said: "Very quickly Pride has become one of our most celebrated days in the council's calendar.
"I am delighted that even though we won't be able to host an outdoor live event this year, that an organisation of the calibre of Bentley has decided to become a partner.
"It's a fantastic endorsement of what we are doing."
Dr Astrid Fontaine, Bentley Motors member of the board for people, digitalisation and IT, said: "As Bentley steps up its emphasis on the importance of diversity and inclusion, we're delighted to be sponsoring Cheshire East's virtual pride celebrations on Saturday 25 July – and our rainbow Bentley captures the essence of that perfectly."
Cllr Marilyn Houston, Cheshire East Council member equality champion, said: "Preparations for this year's online event are coming along really well.
"We know it's not the same as being there with friends, but the organising team have done a terrific job of pulling together elements of what you might have seen on the day and adding a few twists as well.
"Please tune in to our broadcast!"
Keep in touch with announcements on Virtual Pride 2020 at www.prideinthepark.com and at Pride in the Park Facebook page @PrideInThePark2020
Pride in the Park will return to Queens Park, Crewe as a live outdoor event on Saturday June 19, 2021.