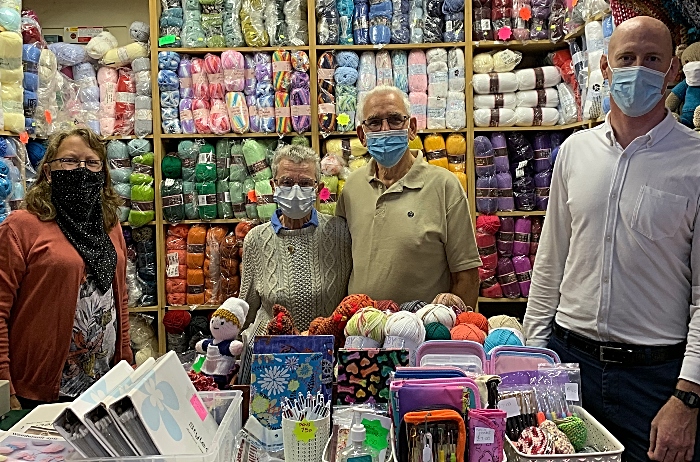 Tributes have been paid to a Nantwich Market trader who has called it a day after 30 years working at the market.
Mary Faulkner has run a knitting stall in the market hall in the town since 1987.
She had a surprise visit from Crewe and Nantwich MP Dr Kieran Mullan has friends and fellow traders bid her farewell.
Mary's stall has been taken over by new stallholder Tina Cartwright.
Mary said: "The people of Nantwich have been a pleasure to serve all these years.
"I want to thank my customers who I have thoroughly enjoyed getting to know over the last 30 years and I wish Tina all the best with the stall.
"I am also looking forward to helping as a volunteer with Dementia Friendly Nantwich."
Gaynor Kirkham, of Nantwich Market Traders Association, said: "Mary has been a stalwart of the market for so many years and will be sorely missed.
"But I am glad to say Mary will be helping with our work to become a dementia friendly market."
Dr Mullan said: "I know how well loved Mary is so it was great to join the other stall holders in wishing her well in her retirement.
"It is also great that the stall is being taken over showing the market is still alive and well despite the challenges we have all faced with the lockdown."
Lynn Lurcock, from Dementia Friendly Nantwich, said they are planning to run training sessions with market holders in coming weeks to help them gain dementia friendly status.
She added: "I am delighted the market traders are enthusiastic about working with us to be an especially welcoming place for people on our community with dementia.
"It is great to have Mary helping us with this project."