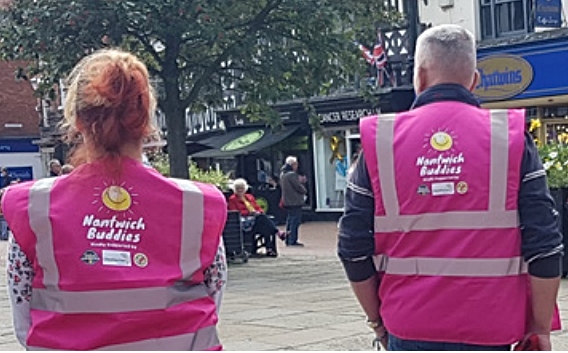 Nantwich Buddies volunteer organisation is launching its first "Virtual Volunteer Expo" from tomorrow (September 21).
Volunteers from across Cheshire and beyond are invited to take part in any or all of the workshops being staged over the subsequent weeks.
Nantwich Buddies was formed during lockdown when its first 40 volunteers began working with Cheshire East's People Helping People team who received calls from the general public asking for help with shopping and prescription collection.
To date, Nantwich Buddies have supported more than 160 households in Nantwich and Acton and at the peak had over 60 people volunteering each week.
Volunteer coordinators Liz Parkin and Kedren Elliott prepare rotas to help at Church View Pharmacy with temperature checks.
And a new Street Ambassador Scheme to help visitors navigate their way around Nantwich is also up and running, with Buddies sporting pink high-vis vests sponsored by Nantwich Food Festival.
They hope the Virtual Expo will provide volunteers with lots of help and tips.
Kicking off the Expo at 7.45pm on September 21 – Get the best from Zoom with Merryn Myatt from Perris-Myatt Training: a short presentation with hints and tips to help the novice and experienced Zoomer present themselves well in a virtual world.
And at 8pm – Introduction to British Sign Language with Jo Grubb from JG Creative: An interactive, live session where Jo will teach us some basic sign language (including the word that is spelt out on the workshop graphic) to help us communicate more effectively with clients with hearing impairment.
The session will also offer listeners a mindfulness audio by Nigel Keegan from Right Minds Clinical
Hypnotherapy who will help to put you into a nice state of relaxation before bed.
On Tuesday 22 September:
7.30pm – Become a Dementia Friend with Ben Selby from Right at Home South Cheshire
8.10pm – Improve your listening skills with Jan Ferguson, Humanist Celebrant
8:30pm – Make your own facemask
To book a place on the Virtual Expo visit www.nantwichbuddies.org/volunteerexpo
Liz Parkin, founder of RedShift and the Buddies scheme, said: "We've all been impacted by the pandemic and many people are feeling stressed, anxious and very isolated.
"I am delighted with how the Buddies, from all walks of life, have stepped up and supported their community.
"We are here for our town, for anyone in our community that needs us. We can help with shopping, dog walking, basic gardening jobs, befriending, prescription collection, whatever people or organisations need help within Nantwich – just ask!"
John Coulter, director of the Nantwich Food Festival, said: "When I heard about Nantwich Buddies I wanted to get involved and help the community in a different way and knew they were looking for sponsors.
"There is so much going on in our little town to support residents and the work that Nantwich Buddies has been doing is fantastic.
"Myself and the other festival director are proud to be able to help."