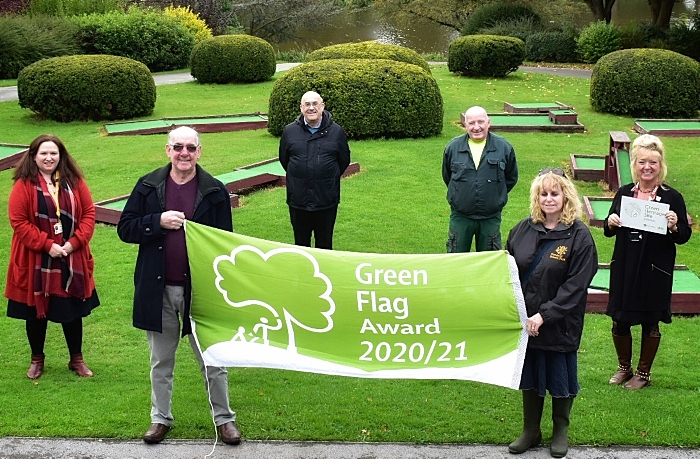 Parks and green spaces in Cheshire East have been honoured in the 2020 Green Flag Awards.
Queens Park in Crewe is among seven locations in the borough which will be raising their Green Flag Awards granted by Keep Britain Tidy.
More than ever before, residents have been enjoying and appreciating outdoor park spaces during the Covid pandemic and lockdown.
Others honoured are Congleton Park, Sandbach Park, Fountain Fields in Middlewich, Bollington Recreation Ground, Milton Park in Alsager and The Moor in Knutsford.
The Green Flag Award scheme, managed by environmental charity Keep Britain Tidy, recognises and rewards well-managed parks and green spaces.
Queens Park in Crewe and Congleton Park also achieved Green Heritage Site Accreditation for management of its historic features.
The accreditation is supported by Historic England.
Cllr Laura Crane, Cheshire East Council's cabinet member with responsibility for green space, said: "This year has been a very challenging year for everyone, with our public open spaces being a lifeline for many.
"To be able to continue to care for such precious historic sites in such difficult circumstances is a real demonstration of the dedication of our staff and volunteers."
Keep Britain Tidy Chief Executive Allison Ogden-Newton OBE said: "This year, more than ever, our parks and green spaces have been a lifeline and we know that millions of people have used them to relax, meet friends, exercise or simply escape for a short time.
"It is testament to the incredible dedication and hard work of parks staff and volunteers that, despite the challenges that went along with record numbers of visitors, Cheshire East, along with Ansa Environmental Services and the Friends of the Park groups have achieved the highest international standards for Queens Park, Congleton Park, Sandbach Park, Fountain Fields, Bollington Rec, Milton Park and The Moor demanded by the Green Flag Award."
The seven parks are part of the 2,000 sites across the country to collect the award for 2020.