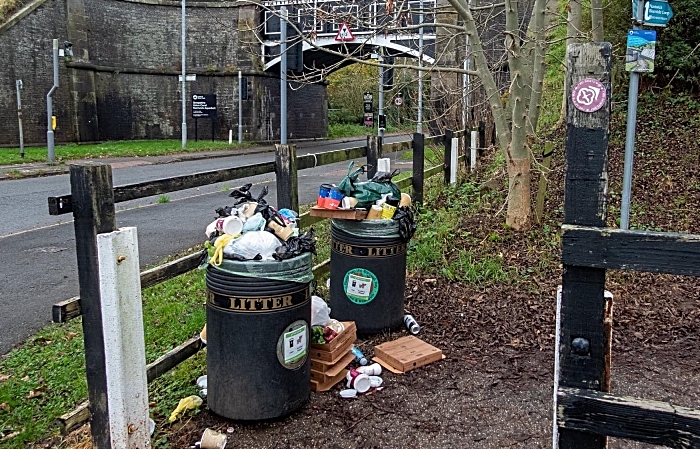 Nantwich residents are being urged to take litter home after these pictures emerged of overflowing litter and dog poo bins in the town.
Bins near the Nantwich Aqueduct, Mill Island and near Nantwich Lake off Shrewbridge Road were all seen overflowing with piles of rubbish and poo bags littered around them.
Some residents say Cheshire East Council is not emptying bins often enough, despite claims on its website if empties litter bins every day.
A reader who provided these images during a walk around the town said: "If the bins are full…please take your rubbish home!"
But others said the council cannot plan emptying routines based on spontaneous pizza sessions.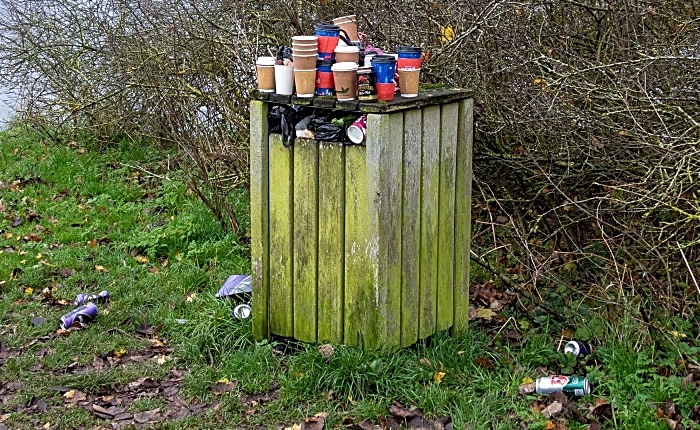 We contacted Cheshire East Council to ask how often bins are emptied.
On its website under the "Street Cleansing and Litter" section, it states:
We aim to:
– empty town centre litter bins daily and all other litter and dog bins on at least a weekly basis
– cleanse town centre areas daily and cleanse all other areas frequently
– attend to fly-tipped waste within 24 working hours of a report being received (for waste that can be removed in less than 1 hour as larger deposits may require additional equipment)
– remove offensive graffiti on council land within 48 working hours
– remove fly posting on council land within 2 weeks
Councillor Laura Crane, Cheshire East Council cabinet member for highways and waste, said: "Thank you for bringing this to our attention and I can confirm these bins have now been emptied.
"We would ask people to bear with us during this particular time, owing to the pressures of the Covid-19 lockdown and, where possible, take their litter home to reduce the demand on our bins and our collection teams.
"Our collection teams are employed by the council's wholly-owned environmental services company Ansa, and they empty 3,041 litter bins across the borough.
"Of these, there are 165 litter bins and 25 dog waste bins in Nantwich, which are emptied at least once a week, while town centre bins are emptied daily, which is sufficient in normal times.
"During the pandemic lockdown, however, with leisure and food outlets closed, except for take-away, we have experienced a large increase in residents using our open spaces and depositing litter from picnics and take-away food and drink containers.
"Currently, our teams are struggling to keep pace with the large increase in litter deposited.
"We would urge residents to work with us on this and we ask for understanding so that during the lockdown period we can all continue to enjoy and benefit from our parks and open spaces across the borough.
"Do please take litter home, especially when a litter bin is full, and please do not leave litter and dog waste bags on the ground, as it is an offence to do so."