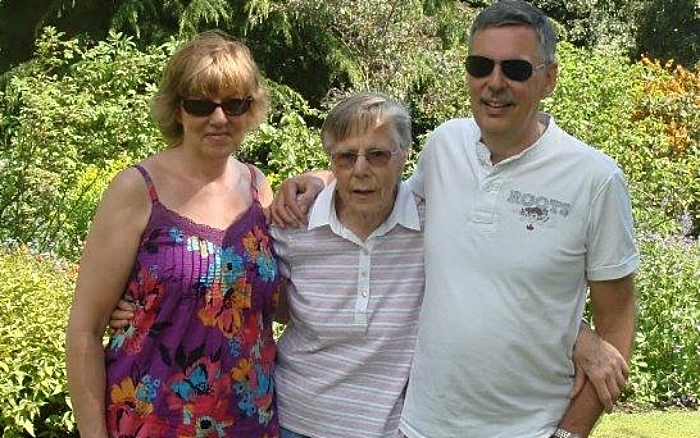 By Hannah Youds
Reaching the age of 100 is a celebration in itself.
And for one Nantwich woman, turning 100 on Christmas Day is all the more joyous!
Winifred "Fred" Chaplin, who has lived in the town for more than 30 years, will be celebrating her centenary on December 25.
Sadly, with Covid restrictions in place, a large family celebration is out of the question – and plans are place for a major gathering in 2021.
Born in Loughborough in 1920, Fred spent her teens in Liverpool and joined the WAAF (Women's Auxiliary Air Force) at the start of the Second World War, serving in Bomber Command.
Following the war, she began teacher training and taught until she moved to Lincoln with her husband Richard, where her daughter Jenny and son John were born.
This was also where she ran a nursery school.
The family eventually moved to Cheshire in 1959, living first on the outskirts of Aston, then in Wybunbury.
Finally they moved to Nantwich nearly 40 years ago where Fred still lives independently.
From the mid-1960s, she volunteered with the WRVS (Women's Royal Voluntary Service) delivering meals on wheels for many years.
She also took up organising a club for people with physical disabilities which was held at The Gables in Beam Street, going out of her way to take them on holidays.
A very keen gardener into her early 90s, Fred was always very active, playing badminton well into her 60s, taking up wood carving in her 70s and Tai Chi in her 80s!
Fred has three grandchildren, two step-grandchildren, three great grandchildren (known to them as GG), three nieces – daughters of her late brother – and two nephews – sons of her late brother-in-law.
Her daughter Jenny said: "It seems likely that any formal celebration will have to wait for 2021 – but it will undoubtedly involve as many family members as can attend plus several supportive neighbours and friends!"
(Pics: Above, with her children John and Jenny, and below, with Jenny, grand-daughter Andrea and great grandsons Alexander on the left and Samuel)