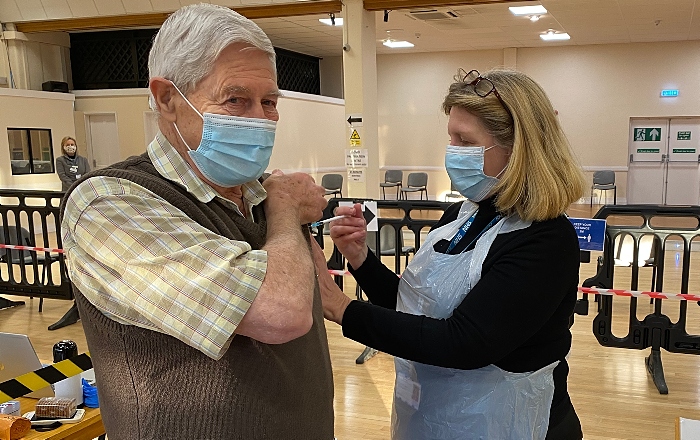 Ten per cent of Cheshire East residents have 'already' had their first Covid-19 vaccination dose, according to Cheshire East Council leader Sam Corcoran.
His comments come as it emerged health chiefs are looking into opening a mass Covid-19 vaccination centre for Cheshire.
Cllr Corcoran said the current vaccine programme was "going very well" and that all over 80s "will be vaccinated by the end of January".
He added: "I estimate that already, 10% of the population of Cheshire East have been vaccinated.
"The vaccination programme is a huge task that will take months.
"I would also appeal to people not to demand details when particular groups will be vaccinated or why the vaccination centres are in some towns and not others.
"The NHS is under huge pressure, the administrators as well as staff."
His comments come after Cheshire health chiefs indicated they were open to the possibility of a mass vaccination centre in the county, like those in St Helens and Manchester.
NHS Cheshire clinical commissioning group (CCG) is the body responsible for organising the county's vaccine roll-out.
Its director of strategy and partnerships Tracey Cole said the organisation was "looking at all the options" in terms of increasing capacity.
She said: "What is the best way to provide this vaccine across Cheshire is one that fits with our population.
"We have not ruled that out… There are further discussions today with partners with what those options are.
"If we need those [mass] sites we will put forward to have them.
"They need a massive amount of staff and there are a number of things to consider."
NHS England data shows that 201,220 Covid-19 vaccine doses have been administered in Cheshire and Merseyside.
Cheshire currently has 23 sites where vaccines are being administered.
Of these, 18 are in "primary care networks" in places like GP surgeries and larger venues like Nantwich Civic Centre.
There are four in hospitals, and one pharmacy.
Ms Cole also saying that plans are in place to add more pharmacies to the list of sites.
The nearest hub for the region is St Helens RFC's Totally Wicked Stadium, or the Etihad Tennis Centre in Manchester.