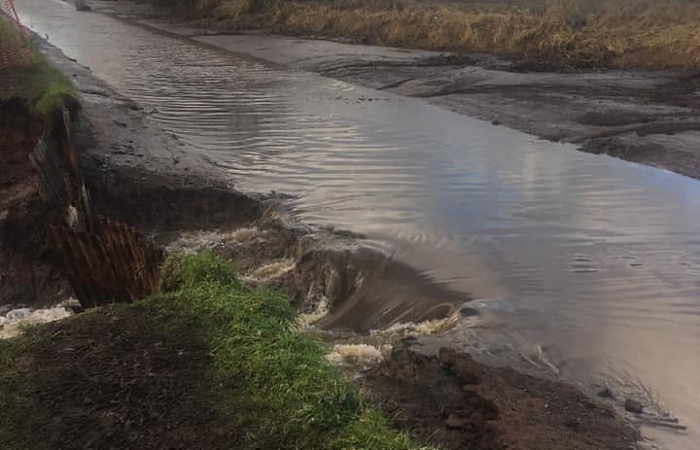 A major breach of Shropshire Union Canal at Beeston near Nantwich was caused by heavy rains and floods from Storm Christoph.
These images from canal users show the extent of the breach which has closed the canal and towpath at Lock 10, Wharton's Lock and Lock 11, Beeston Iron Lock.
The closure starts from Bates Mill Bridge to Lock 11, Beeston Iron Lock.
It could be closed until January 29, says the Canal and Rivers Trust, which manages the canal network.
Storm Christoph brought heavy rain, snow and winds sweeping across Cheshire on Wednesday, causing widespread flooding with rivers bursting banks, roads like the A49, A51 and A41 closed.
One narrowboat user Nik Lambert, based close to the breach, said: "We felt the levels changing around 9pm (Wednesday).
"Kept checking it with a torch and it appeared to be low but stable.
"Then the tilting started we settled in the mud at an uncomfortable angle but safe!
"I made a ramp for us to get on and off safely and bolted it down to stop it moving. Looks like we may be like this for a while!"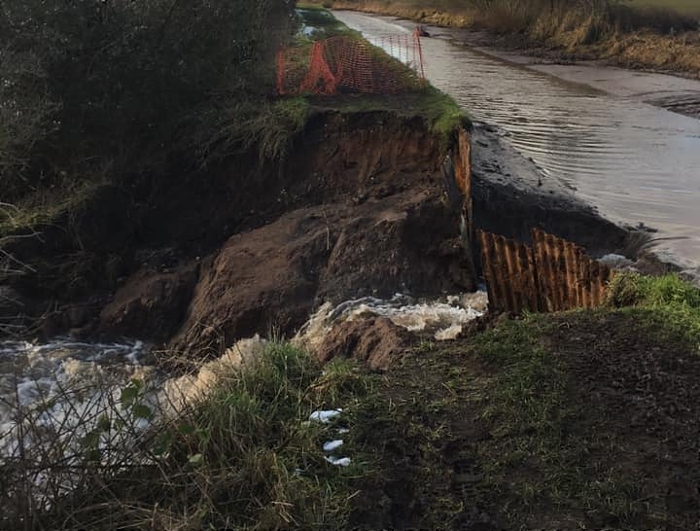 A Canal and Rivers Trust spokesperson said today: "Our contractors are onsite installing a dam around the affected area between Lock 10 and Lock 11 on the Shropshire Canal.
"This will allow us to feed water to the canal downstream and assist our customers in the area.
"Our teams are now looking at access to the site and designing a method of repair for the breach in canal wall.
"Both navigation and towpath will remain closed and a further update will be provided Friday 29 January."
(images courtesy of Nik Lambert, Facebook)