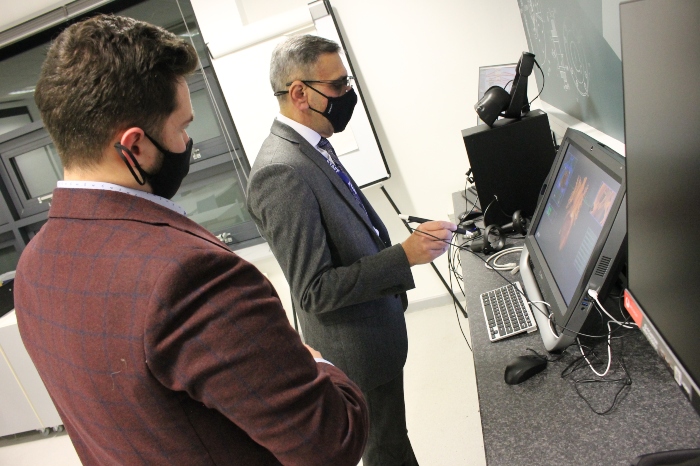 Students at Cheshire College – South and West will be unlocking 'digital superpowers' in a new partnership with Virtalis, writes Hannah Youds.
A new immersive design lab has been opened at the college in Crewe, backed by the Cheshire and Warrington Local Enterprise Partnership.
It was supported by the LEP's Local Growth fund with a £5 million investment programme.
Mark Parsons, Assistant Principle of Curriculum at the college, said: "I am extremely excited to see our learners continuously benefit from the partnership we have developed with Virtalis.
"Virtual and augmented reality is touching on our everyday work, education and social lives.
"It is already beginning to revolutionize a number of industries from healthcare and retail to engineering and this method of teaching and learning will become increasingly effective as new technologies emerge."
New equipment from Virtalis will be used across three campuses in Crewe, Ellesmere Port and Chester.
It will benefit those studying Engineering, Construction and the Built Environment, Hospitality and Catering, Visual Arts, Media and Games and Health and Social Care.
"We are thrilled to support the creation of this exciting partnership between the College and Virtalis, which I am sure will help to develop students' skills and develop our region's talent base," said Clare Hayward MBE, Chair of the Cheshire Warrington Local Enterprise Partnership.
"The Design Lab and the new Digital Hub at the College are part of a programme of investment we are making in digital skills, which will reach more than 50,000 students and over 3,000 businesses.
"Harnessing the power of the digital economy and creating a workforce with the skills employers need is one of our highest priorities at the LEP and we look forward to seeing this initiative flourish."
Robert Boers, CEO of Virtalis, said he was "proud to team up with Cheshire College, an innovative and leading institute with a strong reputation."
To find out more about studying at Cheshire College – South & West, visit ccsw.ac.uk.