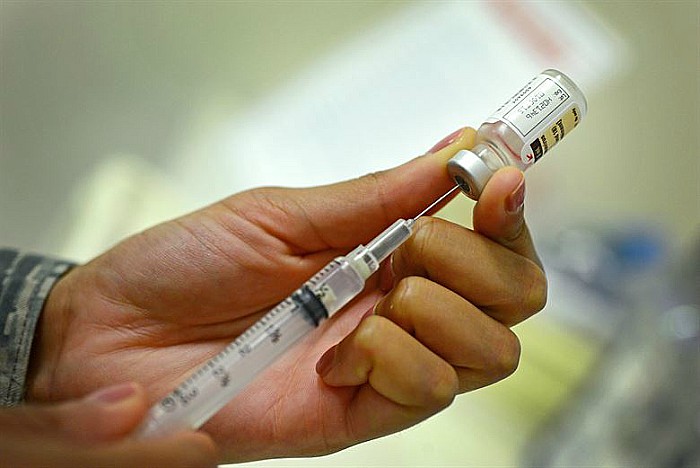 It has been almost three weeks since the first Covid-19 vaccine was administered in Nantwich – and the fight to eradicate the virus locally is not slowing down, say health chiefs.
Residents of Nantwich have been receiving their vaccines at the Civic Centre to help them gain protection against the Coronavirus.
Now NHS Cheshire Clinical Commissioning Group (CCG) has uploaded a video to YouTube, telling the story of the vaccine rollout so far.
Nurses, volunteers and patients all share their emotions and joy about receiving the vaccine.
"Far better than I expected" and "very well organised" were some of examples of feedback shared in the video.
GP Dr Andrew Wilson, Chair of the NHS Cheshire Clinical Commissioning Group, said: "The Covid-19 vaccination programme offers a great beacon of hope for all of us.
"It is important to remember that we are still in the middle of a very serious pandemic which is putting health and care services under tremendous pressure.
"Behind every statistic are sad stories of lost loved ones and we must never forget that."
Latest Cheshire East stats (up to January 24) show there were 885 cases in the previous 7 days. This is a fall from 1,229 cases in the prior 7 days (up to January 17).
The current R rate for the North West is between 0.9 and 1.2.
Dr Wilson added: "There are reasons for optimism, however, not least due to the fantastic community effort that is helping to fuel Cheshire's drive to vaccinate our most vulnerable."
A spokesman for Cheshire CCG said they were unable to provide figures on the number of vaccinations now given out in the Nantwich primary care network area.
"Official vaccination statistics are published nationally, not locally.
"If this changes in the coming weeks / months we will, of course, share them with Cheshire media outlets including Nantwich News," he added.
There are 18 GP-led vaccination centres now live across Cheshire to administer the vaccine to eligible residents via defined clinics in line with vaccine supply.
Further pharmacy-led sites are also planned in Alsager, Crewe and Winsford.
Up-to-date information about Cheshire's Covid-19 vaccination programme is available here.
You can watch the NHS Cheshire CCG's video below.