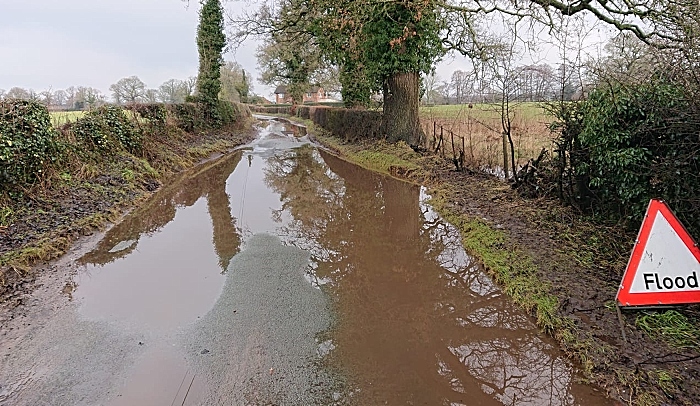 Angry parish councillors near Nantwich are clubbing together to call on highways chiefs to stop leaving rural areas "cut off" by flooded roads.
Villagers in the Wrenbury, Newhall, Sound and Marbury areas say council bosses have left them stranded by failing to empty gullies and clear the floods.
Oliver Lowe, of Wrenbury Parish Council, said issues have become "so chronic" in the area that Wrenbury, Marbury, Newhall and Sound parishes have formed a "Pan-Parish Highways Group".
He said the group was necessary to try and make their voice heard.
"Many rural roads gullies are routinely not looked at for up to three years," he said.
"By then gullies are not only blocked, but so is the connecting pipework – at which point they get left.
"However, many are often missed by the maintenance lorries as at that time they are then covered in years of mud and vegetation.
"Parishes are perfectly placed to work with CE Highways to prioritise asset maintenance.
"As such, this Pan-Parish Highways Group seeks to engage and work with CE Highways to better maintain our roads for the benefit of all.
"If Covid has taught us anything, it is that even urban residents need good access to the countryside."
The group wrote to Cheshire East Council Chief Executive Lorraine O'Donnell on February 2 to express their frustration, but say they have still not received a reply.
"At least five floods still remain in place, with temperatures of -7C, this road is due to be treacherous.
"Imagine how galled residents are to see Cheshire East clearing gullies of presently DRY roads!
"We have little doubt that Cheshire East need to clear the gullies in Sound and get them flowing properly.
"But when other roads remain flooded to a significant depth and length with cold, dry, weather – roads that are the primary means of access for an entire community to access its local doctors, pharmacy and shop – residents understandably start questioning Cheshire East's priorities.
"We are now approaching the third week since Storm Christoph. Another member of the community regularly tweets about these issues.
"It is not uncommon to be told that 'Cheshire East don't care as we live in the most rural, most south westerly corner of the county'."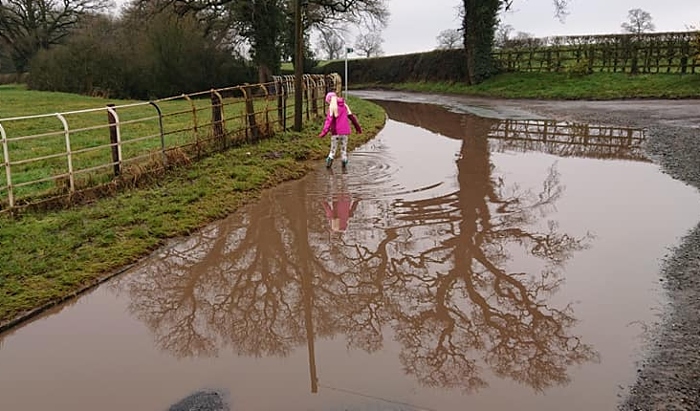 Cllr Laura Crane, Cheshire East Council cabinet member for highways and waste, said: "We continue to deal with a large number of incidents of localised flooding of roads across the borough following exceptional rainfall.
"Storm Christoph brought more than 100mm of rain in just two days across Cheshire East – the equivalent of a whole month's worth of rainfall.
"These heavy downpours on already saturated ground, caused a large number of flooding events across the borough.
"Recent issues reported to us have been recorded and work to alleviate any ongoing problem will be scheduled and prioritised in accordance with their severity and impact on local roads and services.
"All such issues across the borough are assessed in the same way applying the same risk-based approach.
"We keep road gullies clear and in good repair through an ongoing gully maintenance programme, however where the water table is high or where gullies discharge into streams and rivers then the risk of flooding can be more acute as river levels rise.
"Currently, our highways service is working under extreme pressure dealing with highway issues, including flooding and road surface damage across the borough, as well as gritting the roads overnight due to the current very low temperatures.
"We can assure residents that we will deal with all incidents at the earliest opportunity.
"In the meantime, we would urge all property owners with a responsibility for water courses and culverts on their land, to ensure that they are not blocked and that ditches are cleared of debris.
"A response to the letter sent to the council's chief executive will be sent in due course."
To report incidents of flooding to Cheshire East Council visit: https://www.cheshireeast.gov.uk/planning/flooding/report-a-flood.aspx
To view the council's gully clearing programme visit: https://www.cheshireeast.gov.uk/highways_and_roads/road-maintenance/gullies-and-drains.aspx