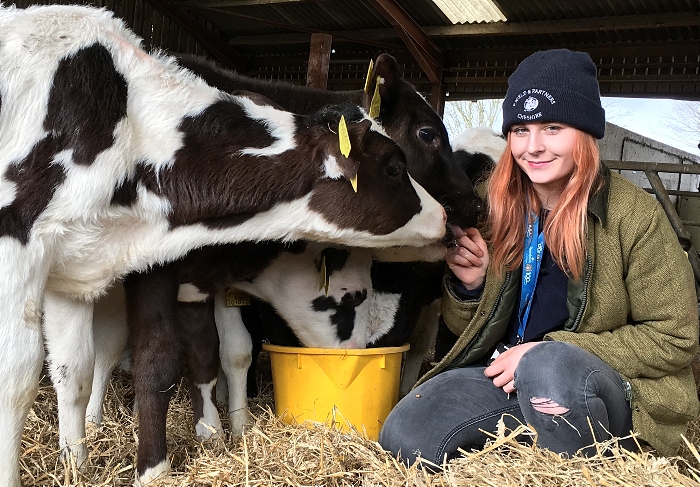 Two Reaseheath College agriculture apprentices in Nantwich are being supported by supermarket chain Morrisons through its Apprenticeship Transfer Levy funding.
Chloe Cooper and Nick Hartland work on Cheshire farms and are studying for their Level 2 Stock Person's Apprenticeship at the Nantwich college.
Their training fees are being met out of a £2 million fund which the retailer donates to further support the next generation of farmers.
The apprentices have one study day a week and spend the rest of their time in paid employment, gaining practical skills and experience at their workplace.
They will also gain insight into the retail sector through behind-the-scenes visits when Covid restrictions allow.
Chloe, 19, is one of eight employees on Reaseheath's campus farm and is experiencing all elements of the college's dairy, beef, sheep and arable units.
She said: "Agriculture is a very diverse industry and an apprenticeship can open the door to a wide range of opportunities.
"Learning new skills is really satisfying and I'm enjoying gaining a deeper understanding of how food is produced."
Reaseheath Farm Manager Ed Parrish said: "We are delighted Morrisons is supporting the training of our own and other agriculture apprentices through its transfer levy scheme.
"Chloe has become an indispensable member of our team and is typical of the keen new talent we are preparing for entry into the industry."
Nick, 31, has a non-farming background but was drawn to the industry after helping on a calf rearing unit in New Zealand.
He is the only staff member on a family run dairy farm on the Bolesworth Estate, Tattenhall, and his main duties are milking the 300 strong dairy herd and calf management.
Farm Manager Matt Scott said: "We saw Nick's relative lack of experience as a benefit, as we could train him in our way of working.
"Being able to take on a Morrisons supported apprentice has been a huge help, as it's given us the opportunity to look to the future and invest in a staff member."
Nick added: "This apprenticeship has been a great opportunity for me and I'm excited at being at the forefront of new technology.
"I enjoy learning the theory behind my practical work so it's good to be on a programme which has both elements, and I'm well supported on farm."
Morrisons is British farming's biggest single customer and works with almost 3,000 British livestock farmers and growers.