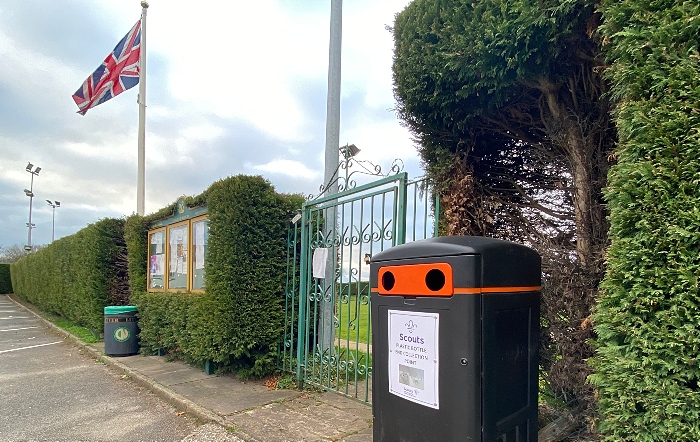 Wistaston Scouts are appealing for more plastic bottle ends for their new 2021 Remembrance Day poppy display, write Jonathan White.
For the past two years, the Wistaston Scout Group have displayed an impressive 24ft long Remembrance Day poppy cascade outside their Scout Centre in 2019 and Wistaston Memorial Hall in 2020.
The cascade was made of dozens of plastic bottle ends painted red to resemble poppies attached to steel wire mesh.
For November 2021, the Scout Group has an even more ambitious display planned for a new location in Wistaston and they are seeking help from residents.
The group has already amassed more than 500 bottle ends since the start of the year, which were donated by members of the public and the Scout Group.
However, they have now set the target of doubling the current figure to get to more than 1,000 bottle ends by Easter to produce a larger scale display for later this year.
Residents are asked to cut off the bases of any plastic bottles used at about 1.5 inches up from the base of the bottle and deposit them in the plastic bottle end collection point on the Wistaston Memorial Hall car park on Church Lane in Wistaston.
The bottle ends will be painted red by the Scouts, so any colour is suitable.
Where possible, deposit the bottle ends, with 1 or 2 litre bottle ends best for the display.
Wistaston Scout Group also ask members of the public rinse the bottle ends before depositing.
John Bennett, Group Scout Leader – Wistaston Scout Group (35th South West Cheshire), said: "We've been blown away by the support we've received already from the members of the public and our group members.
"We have a very ambitious plan in place for this year's display and it will take a lot of work to pull it off but if things carry on, as they are now until the autumn then we are very confident in producing a stunning piece of art for the village of Wistaston."
Remembrance Sunday Services commemorate the contribution of British and Commonwealth military and civilian servicemen and women in the two World Wars and later conflicts.
This year also includes the 80th anniversary of the surprise aerial attack on the US naval base at Pearl Harbour on Oahu Island, Hawaii, by the Japanese that precipitated the entry of the United States into World War II.
Wistaston Scout Group started in 1958 and currently has 130 young people and 30 leaders and helpers.
The Scout Centre is located in Bluebell Wood, off Elm Drive, Wistaston.
For further information visit: http://wistastonscoutgroup.org.uk/
Wistaston Memorial Hall was built over 70 years ago in memory of 16 men from Wistaston who lost their lives in the Second World War.
For further information visit https://www.facebook.com/wistastonmemorialhall