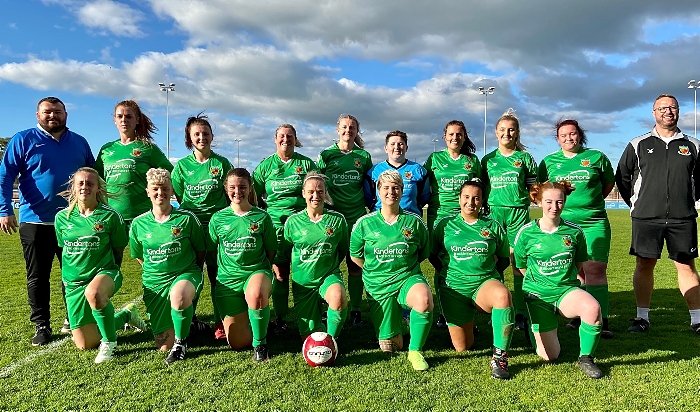 Nantwich Town Ladies have officially been promoted at the first attempt to the Cheshire Women's & Youth Football League, writes Jonathan White.
They had to wait for confirmation for a number of weeks after finishing runners up in Championship East 2020/21.
They go up alongside winners Sale United Open Age Ladies, following a Covid-hit season.
Nantwich Town Ladies will start their 2021/22 fixtures in the Cheshire Women's & Youth Football League, Premier on September 5.
Other teams in their new division include Egerton, Upton, Sandbach United, Macclesfield Town, Sale United, Chester City, Ellesmere Port and Ashville.
Players and staff of the club were recognised at the '(Not) The Awards Evening', hosted by Chairman Jon Gold in association with NTISA (Nantwich Town Independent Supporters Association).
In the Ladies Awards, the Golden Boot was won by Marni Williams, Players Player of The Year was Claire Rathbone, and Managers Player of The Year was Claire Rathbone.
Chris Broad, Manager of Nantwich Town Ladies FC first team, said: "If you'd have asked me when we started this journey 12 months ago what the initial plan was it wouldn't have been to get promoted in our first season.
"However, it's testament to the hard work of my assistants and the players in how they have took on board our ideas and worked tirelessly to achieve their goals.
"It's important now that we celebrate our success but quickly look to our pre season schedule and be as prepared as possible for what will be a new challenge in a league full of quality teams.
"To be a successful team we have to keep improving and working to better last season and the players have been working towards that already as they have trained throughout the summer with no break.
"It was a pleasure to be invited along to the end of season presentation night and share our success with the clubs supporters and staff.
"Marni has had a great season sponsored by the supporters trust and I believe will only go strength to strength as she moves up a level.
"It was lovely to see that both the players and I were in agreement that Claire has been immense for us this season.
"I chose my player of the year before the vote came in from the players and it shows her importance to us and improvement that she'd never played at any kind of level before.
"It's been agreed she will take the armband as of next season and I look forward to seeing how she can progress further.
"I'd like to thank all my players for the dedication and hard work they show consistently."
Jon Gold, Chairman of Nantwich Town FC, said: "This is a magnificent achievement, given that it's their inaugural season.
"Everyone at the club is extremely proud of what they have done and it was fitting that their promotion was confirmed in time for the awards night.
"The genuine and sincere reception that Chris and all the ladies received on the evening, was a fitting tribute to their efforts and the success that they have so richly deserved.
"They epitomise what the club is about and we look forward to helping them build on this further during the coming season."