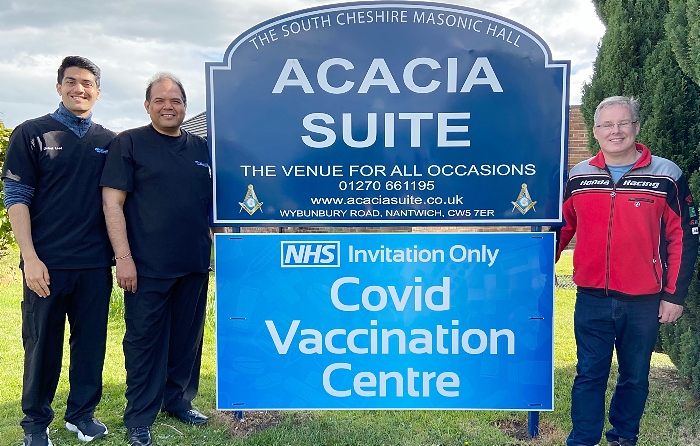 Two key Covid vaccination centres in Nantwich and Crewe are preparing for the rollout of a proposed "booster" jab, writes Jonathan White.
The centres at Masonic Hall in Willaston and Crewe Honda Centre on West Street have already administered up to 55,000 jabs between them.
And the two men who helped set them up say they are prepared to continue running them once the Government's proposed "booster" jabs are rolled out before winter.
In January, Roger Morris gave over a large section of his Crewe Honda Centre motorcycle dealership's showroom on West Street in Crewe to bes converted into a Covid-19 vaccination centre.
Roger worked with best friend and next door pharmacy owner Raj Patel MBE, of Hollowood Chemists, and a team of volunteers to prepare the vaccination centre which was approved by NHS England and the local NHS commissioning group.
The centre can carry out up to 3,500 jabs a week and since opening in January over 45,000 jabs have been administered.
It will close for a just a few days in mid-August, then reopen in September to administer a booster jab to vulnerable groups in the next phase of vaccinations.
In May, Roger and Raj teamed up again to open a second local Covid vaccination centre at the Masonic Hall Willaston on Wybunbury Road.
The use of the Hall has been donated free of charge for vaccinations to support Raj and the NHS.
Up to 10,000 jabs have been administered there so far.
Both sites in Crewe and Willaston will continue to administer first and second doses, as well as the booster jabs.
Roger said: "It has been a pleasure to be part of something very special in helping the local community of both Crewe & Nantwich.
"We originally agreed back in January the use of the showroom until the end of August.
"But I did say if the NHS and Hollowood Chemists wanted the space for longer it would not be a problem, as I have said all along, we are all in this until the end.
"It's been an honour to donate the showroom for such a worthwhile cause.
"The whole team of people involved are absolutely fantastic, everyone should be very proud of what we have all achieved, we will certainly never forget this year."
Jainil Patel – Clinical Lead, Hollowood Vaccination Centre – said: "At Hollowood Chemists, we are honoured and privileged to have the opportunity to provide such an essential service to the local community.
"We have worked hard to use our expertise in clinical safety and medical practice to transform the sites provided by Roger Morris at his Honda site and the Masonic Hall into high quality vaccine centres.
"This collaboration has not only meant that the great vaccination needs of the local area have been met, but that we have been able to provide the service with high quality, efficiency and confidence.
"It is through the teamwork and great effort of all involved, that my team and I have been able to vaccinate almost 60,000 patients across the two sites with efficiency and very little waiting times.
"It has been the best experience of my life, and I cannot urge the public more to get their booster jabs if eligible."
No rental payment for the sites have been received as the men are keen to help the local community in the ongoing fight against the pandemic.