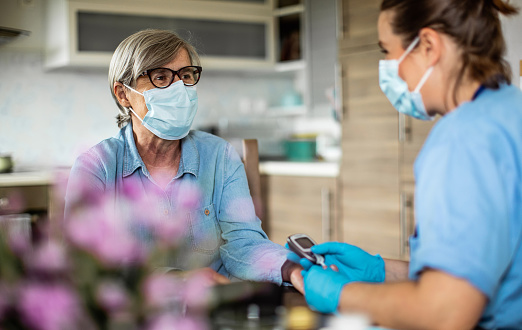 Learning disability nurses, clinical support workers and care staff are quitting their jobs in Cheshire East because they can earn more working in supermarkets or in pubs, writes Belinda Ryan.
And Cheshire East is now experiencing "real workforce pressures" in the healthcare sector, bosses told members of Cheshire East Council's scrutiny committee.
Madeleine Lowry, associate director of the Cheshire and Wirral Partnership NHS Foundation Trust, said she had spoken with healthcare bosses across East and Mid Cheshire and revealed "we are all experiencing recruitment and retention difficulties in the healthcare sector".
"We think that part of that has been that we had a surge in applications during the time when hospitality was closed.
"But now that hospitality has re-opened people are saying 'I can earn a similar amount or more working in the hospitality sector, rather than working in the healthcare sector'," said Ms Lowry.
"We've also seen a number of people who have decided, as a result of pandemic, to change the way that they live their lives, and are choosing not to remain within the health and care sector so recruitment and retention is a significant issue for us at the moment."
She added the problem was a national, regional and local one.
"And that is something that we share, along with the local authority and along with our [hospital] Trust colleagues."
When Cllr Brian Puddicombe (Macclesfield South, Lab) asked if there were any particular roles where recruitment and retention was a particular issue, Ms Lowry replied: "We struggle with disability nurses and clinical support workers.
"And those are the lowest paid workers, so these are the people who could get an equivalent paid job working in Aldi, in a supermarket, or working in the hospitality sector."
Cllr Puddicombe said: "I think it does send a very strong message to us that, if they can get more working in shops or in the bars, then something is wrong, certainly."
The committee also heard from Tom Knight, head of primary care at NHS England (Cheshire and Merseyside) that recruitment and retention was becoming a major problem in dentistry.
Mr Knight said: "We are seeing now some real workforce pressures, not just in Cheshire and East Cheshire, but also in the region and across England.
"We've got some challenges around retaining some parts of the workforce.
"We're hearing reports of dental nurses, looking to pursue careers in other directions as a result of the pressures in dentistry.
"Early on PPE was an issue – that was resolved over a period of time, but obviously the environment that people are working in is extremely challenging at the moment, so we do have a national workforce issue, as well as a regional and the local one."
(Library picture for display purposes only)