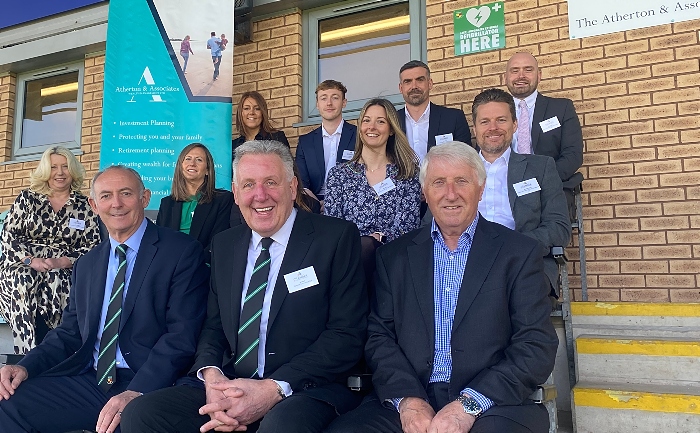 Nantwich Town has announced a new commercial partner in local wealth management company Atherton & Associates.
The partnership sees the main function room at Nantwich Town will be renamed the "Atherton & Associates suite".
Private functions – weddings, birthdays and christenings – plus business events will take place in the Atherton & Associates suite for the duration of their partnership.
Jon Gold, Chairman of Nantwich Town FC, said: "I'm delighted to welcome Jamie and his team as a principal partner of Nantwich Town Football Club.
"We really want them to use the Atherton & Associates suite as an extension of their own offices, it's a big venue that can comfortably seat 180 people with tables and more than in other configurations.
"Indeed, it was great to co-host the South Cheshire Chamber's "Final Friday" on the 29th April with Atherton & Associates, well over 60 local business people attended this event, with the following evening seeing 185 people attend our end of season awards do.
"Now Covid-19 is under control, we have seen a surge of bookings for the Atherton & Associates suite for both private and business functions which is great news for the club.
"With the opening of the Tea Lounge next door to the main suite 7 days a week, the club has never been busier.
"I want more and more people to discover our little gem which is 5 minutes' walk to the town centre with free parking and welcome Jamie and his team for a very fruitful long-term partnership."
Jamie Hull, Managing Director of Atherton & Associates, added: "I've always been a big Dabbers fan and attend many of the games with my family.
"Atherton & Associates always strive to give something back to the community, and with Nantwich Town being a not-for-profit community club with over 45 teams ranging from seven years old upwards, this was a perfect opportunity for us to do just that.
"We have been made to feel very welcome since the start of the commercial partnership and it's great to see the suite being used so regularly and our brand exposure increasing.
"Atherton & Associates are based on the corner of Park Road, which leads to Nantwich Lake and just off Audlem Road, so if you want help in planning your financial future, please do arrange to see us for a no obligation discussion.
"We look forward to a really great relationship with Nantwich Town FC for many years to come."