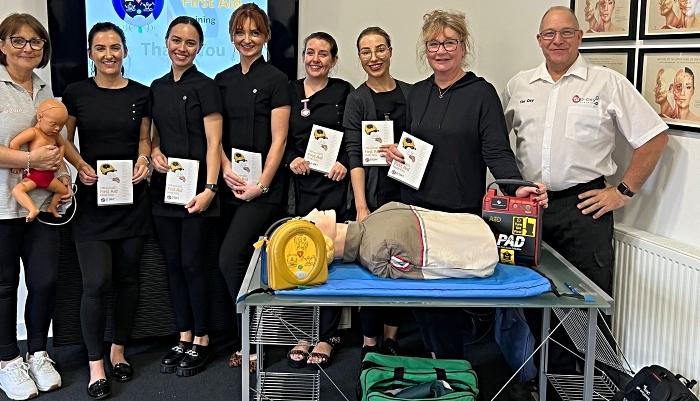 Therapists at one of Nantwich's busiest beauty salons have passed a First Aid course with flying colours.
Team members at Madison Spa on Hospital Street undertook training in the use of defibrillators and applying CPR and abdominal thrust techniques in the event of an emergency in the salon.
The business, run by Dr Ryan Hamdy and wife Karen, a former nurse, has more than 300 clients a week and more than 10,000 people on its books.
Karen said: "It's important for any business to equip its staff with life-saving skills especially those with a high footfall.
"At Madison Spa, we're all about wellbeing and taking care of our clients. We welcome many people of a wide demographic and want to know we can be of assistance.
"We have undertaken first aid training in the past but wanted to be up-to-date on the latest equipment and techniques such as abdominal thrusts to stop someone choking.
"All members of staff took on the training and passed with flying-colours. We are delighted they can take these skills into their everyday lives."
Madison Spa, based in the former Kiltearn Medical Centre, has 10 therapists and an active training programme for young people entering the beauty industry.
First Aid training was carried out by Nantwich firm DDay in the Renew Clinic above the salon where Dr Hamdy carries out facial aesthetics such as wrinkle relaxants and fillers.