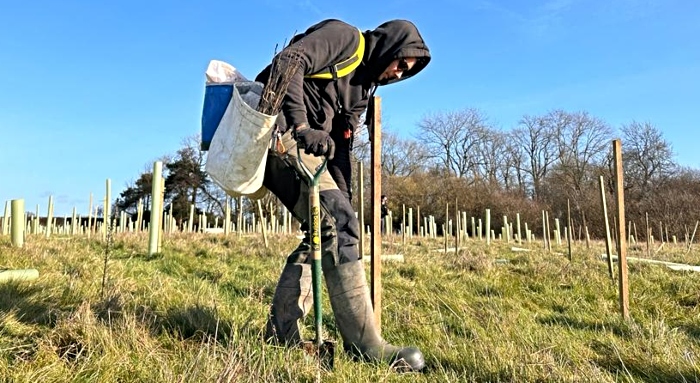 The Nature Recovery team at Cheshire Wildlife Trust are to embark on a tree planting season – and are appealing for local landowners to help.
The Trust has ambitious targets to create 2000 hectares of new woodland across Cheshire by 2030 in line with its 30 by 30 aims and objectives.
Simon Smith, Senior Woodland Creation Officer at the Trust, said: "We need more suitable land to create amazing woodlands across the county.
"Cheshire is the least wooded county in the UK, so it's important we work with landowners to bring that back.
"There are many benefits of trees, especially within a farming system such as shelter for livestock, preventing soil erosion, preventing flooding, alternative income and of course increasing pollinator and wildlife benefits.
"Our experienced team can will help administer the grant through the government's Nature for Climate funded Trees for Climate programme and can offer up to 100% of the funding.
"Our unique offer to landowners includes working closely to design the schemes, manage the grant funding, planting the trees and providing a financial maintenance package.
"If you're a landowner in Cheshire and interested in creating woodland and helping us bring wildlife back to the county, please get in touch: [email protected]."
Cheshire Wildlife Trust is working with The Mersey Forest and City of Trees to deliver the ambitious Trees for Climate programme.
It's a multi-million-pound national woodland creation programme being delivered by England's Community Forests.
It is part of the national Government-led Nature for Climate fund which supports England's Tree Action Plan.