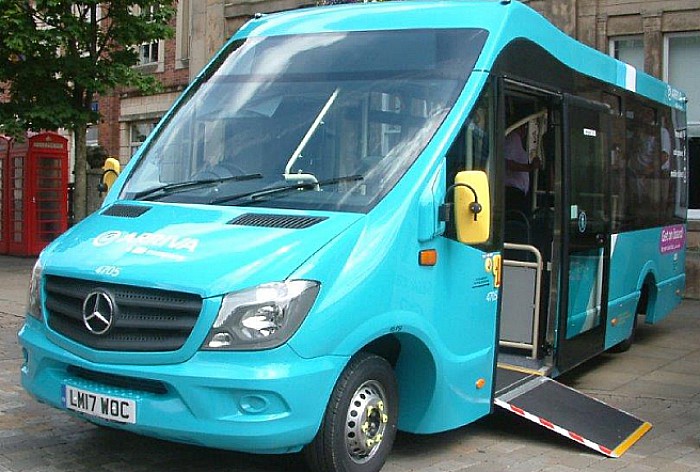 Subsidised Sunday and evening bus services in Crewe and Nantwich look set to be scrapped by Cheshire East Council after it reviewed its plans following consultation.
But Saturday services will be maintained as the authority prepares to press ahead with cuts to its subsidised services.
Council bosses claim the revised proposals, made after a 10-week consultation, would retain day-time buses for 99% of residents.
The proposals, discussed at the council's environment and regeneration scrutiny committee yesterday, would save more than £1 million from the council's budget.
Cheshire East received more than 3,900 replies to the consultation and says it has improved its plans for services as a result.
The plans would also phase any changes to 'Little Bus' dial-a-ride service, but the council would but the number of these vehicles down from nine to just five.
But the cuts were slammed by Nantwich Town councillors at a recent meeting.
Nantwich Cllr Bowyer-Bates said: "The main concern is about access to Leighton Hospital in the evenings and weekends for people who can't drive.
"One lady who doesn't drive wrote to me. She has two children, one of 6 months old, and is a regular user of hospital services. How is she going to access the out of hours GP service in evenings?
"Taxis cost at least £15 each way from Nantwich to Leighton Hospital."
Cllr Arthur Moran added: "We're told there's been a consultation, but when the council has to make that saving, consultations can be a bit pointless.
"NHS has to be 24 hours service, I've had contact from residents who are worried about getting to the hospital."
Cllr Paul Bates, Cheshire East Council cabinet member for finance and communities, said: "Changing the way services operate is always a very complex issue.
"The council has weighed up the needs of all service users after our in-depth consultation.
"We have tried to strike the best possible balance between making savings and protecting vital services for residents."
Cheshire East Council Cabinet is due to consider a set of recommendations on the bus review at its meeting on Tuesday, November 7.
Any changes to services would not take place before April 2018.
You can view the full 20-page revised proposals for subsidised bus services here.